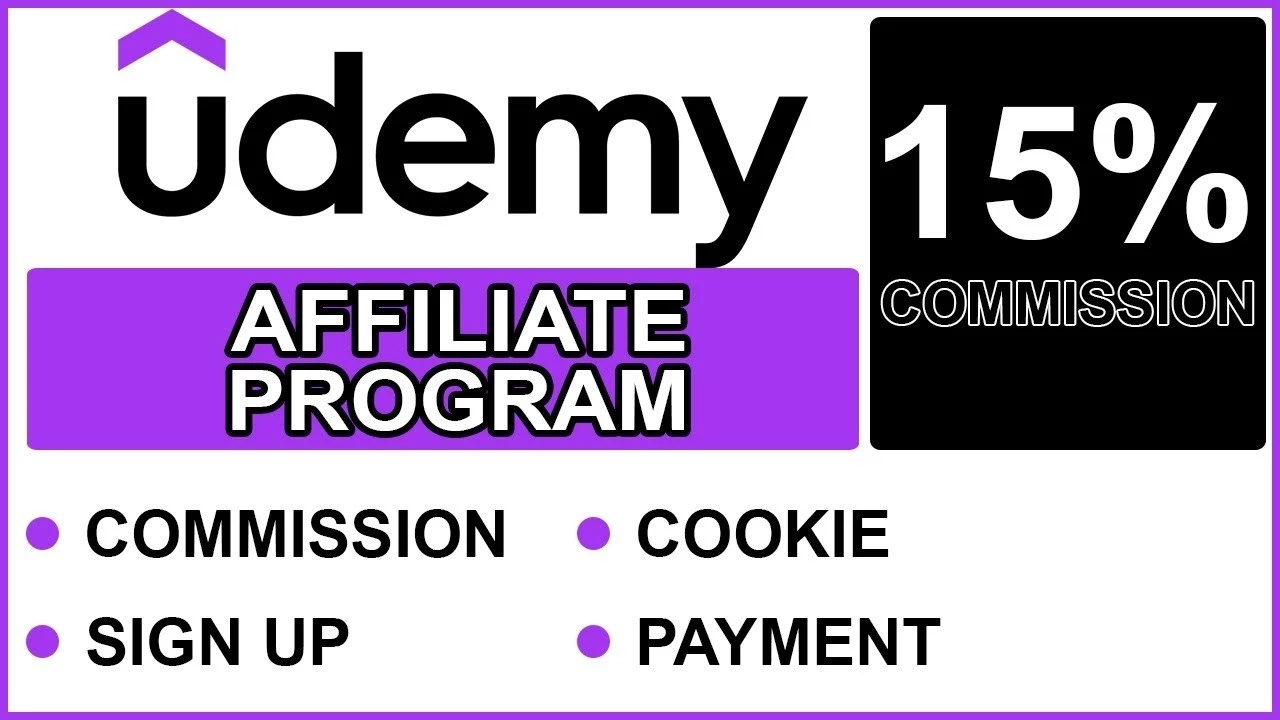 Have you heard about the Udemy affiliate program but don't know to join?
This post promises to guide you on how to become a profitable Udemy Affiliate, all you need to know about the program.
You will also learn how to make money through Udemy Affiliate.
All you need to do is to stick around till the end.
Unlike other affiliate programs, three networks Rakuten, Sovrn Holdings, and Admitad power the Udemy Affiliate program.
But the Udemy Affiliate makes use of Rakuten advertising affiliate software to control its organization worldwide.
Udemy is an online education platform.
So bear in mind that when you join the program, the products that you will be promoting will be related to online education.
According to the analysis made from eLearning websites, the Udemy Affiliate program is one of the most famous and popular education affiliate Programs.
The eLearning program was founded in May 2010 by Eren Bali, Gagan Biyani, and Oktay Caglar.
The Affiliate program has its headquarters located in San Francisco, California, USA.
It offers more than 155,000 courses directed at students and professionals worldwide.
In November 2022, the program has about 57 million students, more than 200,000 courses, and about 74,000 teachers and lecturers teaching courses in more than 70 languages.
These statistics show that Udemy is a very successful program that an affiliate can join and make a profit.
What is the Udemy Affiliate program all about?
The Udemy affiliate program is one of the best in e-learning.
Its cookie window however is 75 percent shorter at 7 days than the industry average of 30 days.
In actuality, this implies that the audience that you referred to your link must prepare to make a purchase.
Fortunately, Udemy has a marketplace analysis tool you can use to determine the most well-liked courses and conduct specialty research.
Although Udemy does offer advertising creatives such as banners and pictures, they generally do not translate as well as deep links because they resemble advertisements.
Deep links are clickable connections that direct website visitors to particular places.
In this case, a specific course.
If you want me to be an Udemy affiliate take action today!
Benefits of becoming an Udemy affiliate
As an Udemy affiliate, what do you enjoy?
Here are things you enjoy.
Udemy also provides promotional materials for you as an affiliate like banners.
You get a 20% commission on each course that your audience purchase.
You can transfer all your profits to your bank as real money.
Besides, the more audience joins through your links the higher the commission percentage you earn.
How to join the Udemy Affiliate Program
Joining the Udemy Affiliate program is as simple as eating food.
Once you follow the simple steps, you become an Udemy affiliate by simply submitting an application.
1. Step 1. Go to Udemy's website under "Affiliate" and click "Join now".
2. Step 2. You will get redirected to the Rakuten marketing page form.
This contains information that you will enter about yourself.
This information covers your
Personal details
Company details
Website details
Technical information
It takes Udemy 2 to 4 days mostly business days to check your application and then accept you as an Udemy affiliate.
So once you have applied, discover and promote, Monetize and make money.
How to make money when you join the Udemy Affiliate Program
You are now an Udemy Affiliate the next is how do I make money on the Udemy affiliate program?
1. Choose a lucrative natural niche that you enjoy.
In the long term, it's preferable to develop a following or audience around a certain specialized topic or topics that you are educated about and passionate about.
It's simpler to stand out from the competition, provide value to your readers' lives, and ultimately convert them into Udemy course buyers.
Keep in mind that you'll be writing a lot about this topic and perhaps even enrolling in classes on it, so you better enjoy it!
A Udemy affiliate would find it mentally taxing to promote a course they are not enthusiastic about.
So if you are a beginner or a newbie, just select one course and promote it.
You will learn as you go and then you expand your program of Udemy affiliate courses.
2. Create a website, blog, or social media following.
When you register to be an affiliate, Udemy will consider your ability to market its courses successfully.
A decent guideline is to aim for at least 5,000 monthly visitors to your website.
Better is more.
Internet traffic is significant.
You will be able to spread the word about the Udemy courses to even more users by improving the awareness of your website.
3. When possible, promote courses at nearly full prices.
It's no secret that the majority of courses on Udemy can get purchased for as little as $10, and that trend is just continuing to grow.
If your earnings are only 20% of it or $2 per sale, that is acceptable; it is still better than receiving nothing.
Additionally, keep in mind that you only have 7 days to persuade a reader into a sale of an Udemy course.
So what you do is build a relationship with your reader and use that opportunity to promote courses that are not discounted highly whenever possible.
Which is not done on time and gets more difficult as time goes on.
4. Gain and keep your audience's trust.
Find and keep your audience's trust.
Your recommendations must be trusted if you want your readers to believe the course you suggest is well spending more than $10 for.
Being a successful Udemy affiliate depends on one thing particularly, your ability to attract the right people not just everybody.
In little time at all, you may join the Udemy affiliates program.
It is a matter of matching the appropriate, top-notch courses with your interested audience once you've been approved.
You can decide to create your own Udemy courses and still be an affiliate for your courses and make use of your money from hosting them.
This article should be able to guide you to becoming a successful Udemy affiliate.