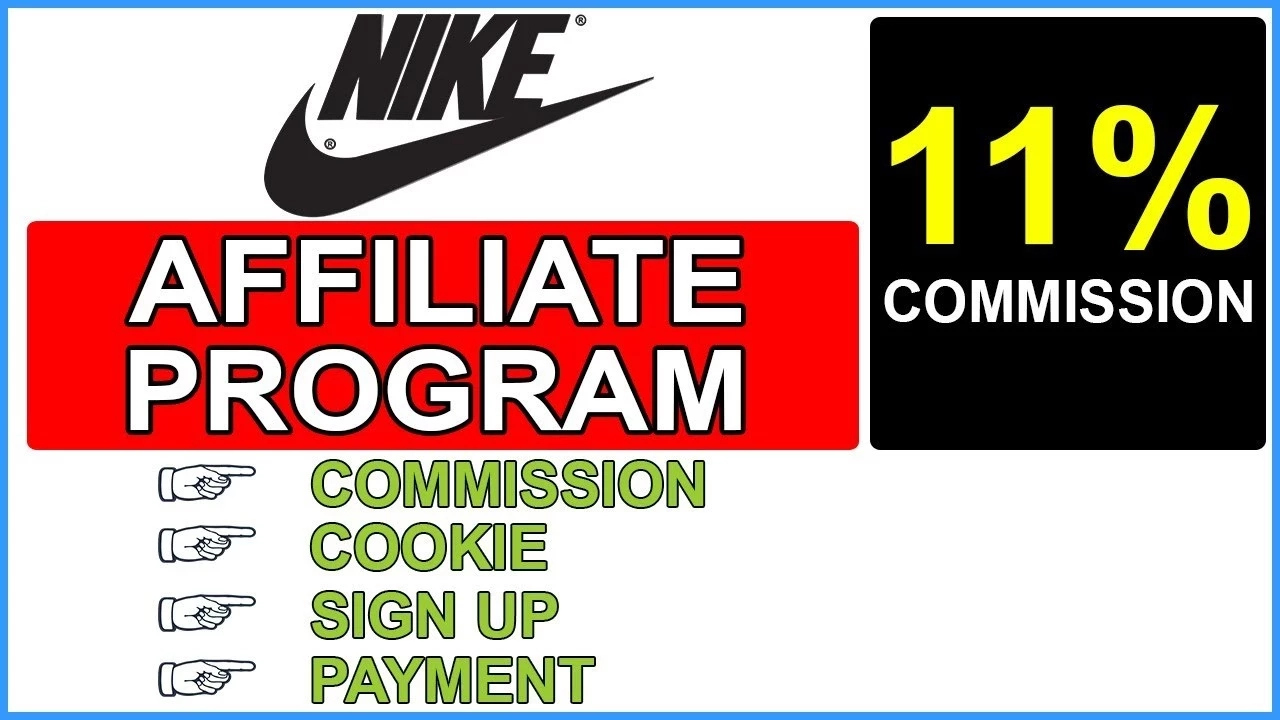 Nike is without argument one of the best clothing brands in the world, especially for footwear and athletic apparel.
Hence, if you have an audience of people who are interested in sport wears this could be the best brand to work with as an affiliate.
Nike uses a standard affiliate marketing model and offers several unique benefits to its affiliates.
However, you must meet the standard requirements to be eligible to enroll in the program.
The regular 30-day referral period is particularly excellent for a company as well-known as Nike as the huge affiliate commission.
The Nike affiliate program is fully operational in over 160 countries of the world.
So, you can enroll in the program insofar as you are within an eligible country.
What the program is all about
The Nike affiliate program is open to everyone who has an audience to promote Nike's products and earn a referral commission.
This includes social media influencers, bloggers, information sites, coupon sites, price comparisons, and review sites.
If you are any of these and decide to opt into the Nike affiliate program, you will earn a commission by referring users to Nike.com to buy products.
Typically, Nike provides advertisements ads or banners for participating affiliates to post on their website to market Nike products.
Please, note that Nike does not have a specific affiliate program.
So, interested prospective affiliates must sign up using third-party programs.
However, all affiliate commissions are paid by Nike.
Benefits of becoming a Nike affiliate
Nike occasionally offers competitions or promotional periods to its affiliate marketing members and affiliates with the highest number of sales usually get a lofty prize.
Typically, Nike awards members of its affiliate program with a gift such as a gift card to their store.
Nike will pay you up to 11% in affiliate commission for each sale that you generate with your affiliate link.
This rate is competitively higher than what many other affiliate platforms pay.
Besides these, you have the following
Promotional periods
30-day commission period
Wide variety of items to advertise.
How to join the program
Not just anyone can sign up to become a Nike affiliate.
You must meet a particular set of requirements to advertise for Nike most important of which is that you must have a following.
Otherwise, you must be related to Nike and its products in some way.
To register, follow the steps below:
Register on Nike's Affiliate website, https://www.dcmnetwork.com/affiliate-marketing/.
Wait for the DCMnetwork publisher team to review and approve your application.
Once approved, log into your dashboard and view all offers + commissions.
If you already have an account at DCMNetwork, log in to it.
Search for Nike under "Find & Browse" to get information about the terms & conditions, and the commissions.
Some offers require approval before you start promoting. Hit "Request Approval" if interested.
Get tracking links or create deep links.
Download creatives or request creatives for your code.
View the report to check conversions.
How to make money when you become a Nike affiliate
Nike makes products for sports and daily activities.
The company has a wide variety of clothing, from leisurewear to athletic gear.
Popular options include T-shirts, Tank tops, Sweatshirts, Sweaters, Socks, and Running gear.
Most of these are clothing materials for athletics and other sports – running, soccer, basketball, skateboarding, etc.
Therefore, as an affiliate, you can promote their clothing on your website.
And the more they buy through your link, the more you make money.
Nike sells a wide variety of shoes in different styles and shapes.
Each shoe performs a specific function like running or walking.
Some are unique to specific sports like football, basketball, etc.
Others, like sneakers, are mainly for fashion.
So, you can promote Nike shoes on your platform and when someone buys them with your affiliate link you earn money.
Besides mainstream clothing, you can also promote different clothing accessories and make more money for yourself.
Promote their products via Writing
You can create a social media post, an article for publication in a forum/journal, or a blog about clothing and fashion items.
There, you insert your affiliate links and encourage your readers to try out the products.
Once they do, you earn an affiliate commission.
The Nike affiliate program definitely has potential.
The affiliate commission is ok (11%), and with the standard 30-day cookie expiration timeframe you are good to go.
However, note that thousands of affiliates are currently promoting Nike's products and so it's getting harder to rank for keywords with higher buyer intent these days.