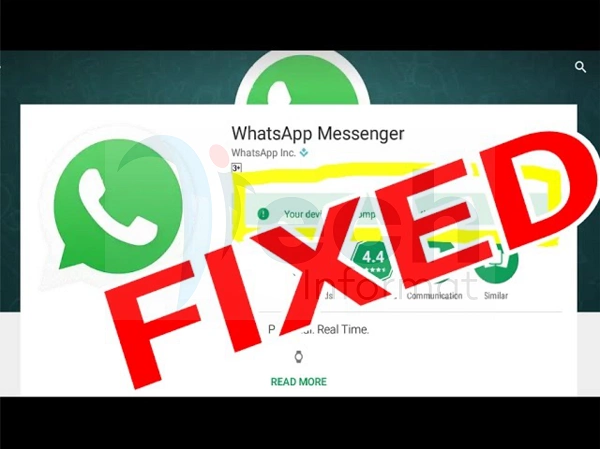 Have you ever tried installing an app from Google play store and got an error message "your device isn't compatible with this version"?
It's not a strange error message among Android users. After all, I've had my share not too long.
We'll fix that together here today, so not to worry.
After reading through this post, you should know why your device isn't compatible with the version of the app that you tried to install and how you can possibly fix it.
You are not the only Android user in this.
I was once here when I tried an Android version 4.2 (Jelly Bean) powered smartphone.
I noticed this when I tried installing a social media marketing management app from Google play store and all I could get was an error message informing me that my device isn't compatible with this version of the app I intended to download & install.
If you got a message that your device isn't compatible with this version while trying to use Google play services, here is how to fix that.
First, let me share with you the possible reasons why you are getting this error message.
It is possible that you carefully handle your phone but technology will upgrade and leave your phone behind.
You are getting this error because the Android OS running on your phone is already outdated, that is why some recently updated apps may not work on your phone anymore.
If you are conscious of this, then you may not want to update your Android app until you read this.
Not every app you try installing will complain that your device isn't compatible.
You may not notice it until you land on an app that requires a higher version of Android OS to function.
Of course, this can be very frustrating as Google play store is the only official store where you can get your applications from.
If you cannot fix the problem, then you might not be able to install the application on your phone, unless you wish to use other third party sources that will let you install the application manually through its APK files.
How to allow installation of apps from unknown sources
Installing an Android application from a third party apart from Google play store is not recommended, because this may compromise the security & privacy of your Android OS.
In fact, this is one of the reasons why installation of apps from unknown sources is disabled by default on any Android powered device.
So to be able to install applications from unknown sources, you will need to toggle the button on, you must make sure you trust the source of the application before you do that.
Maybe for applications you receive from a friend from another Android device through Xender or any other file sharing application.
How to send files to and from PC using Xender
So if you are faced with the challenge of downloading from Google play store, here is how to fix the error and get your app of choice installed on your device.
Remember I told you why you may likely see this error? But also note that if the hardware of your device isn't supported by the application you are about to install, you may likely encounter this error.
How to fix "Your device isn't compatible with this version"
In the course of this article, I will be sharing with you a couple of methods you should use to get rid of this error.
Method 1:
There may be some bugs caught up in your Google play store application cache which you may need to get rid of.
Tap on your device settings
Get to your application manager
Now find Google play app
Clear its cache
After clearing its cache, try launching the Google play app again and try to install the app you tried and got the error message "Your device isn't compatible with this version"
You should have everything running normally now.
Should in case you still have the error reoccurs, try the method 2 below:
Method 2:
Go to the Settings app on your device
Click on "Application Manager"
Find "Google Play Store" and click on the same
Click on the "Uninstall Updates" button
Click on the "OK" button.
Either of these 2 methods should fix the problem for you.
There are other methods I would share that will help you fix "Your device isn't compatible with this version" but some of them will require you root your device.
So you don't brick your device in the course of trying to fix this error, try the 2 methods I shared above and let me know if it worked for you.
Is your device still showing "Your device isn't compatible with this version?" while trying to install an app? Share your questions or contributions in the comment section.