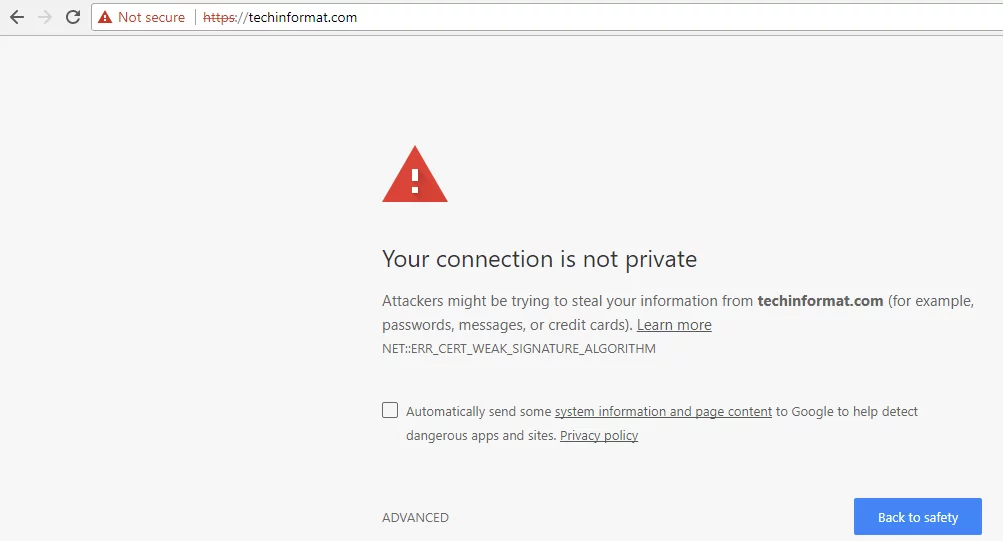 If you've had this privacy error in your chrome browser, telling you that your connection is not private, here is a quick fix for it.
Don't panic because you are not alone.
I've had this issue in my chrome browser for quite a long time, without a lasting solution to it.
I've had friends suggesting that I change my ISP, time zone and so on…
Sadly, none of these suggestions worked for me when I tried as suggested.
At some points, I had to sit down and ask my self "How do I fix when my computer says I do not have a private connection?"
Considering the fact that, Google Chrome browser is my favorite and my default browser
I've posted this error message with screenshots in several online forums, a lot of users have tried contributing to how I could get this issue resolved, but none of the professed solutions solved the problem permanently.
The good news here right now is that; after wandering for that long; I finally had the solution to "Your connection is not private" error message in my Chrome browser.
If you have been encountering this privacy error in your Chrome browser, then you must have been trying to visit a website with an SSL certificate (https).
Following the update/announcement by Google that websites with secure socket layers will experience a boost in search engine ranking, a lot of blogs have moved from http to https.
Because of this, a whole lot of certificate providers have emerged.
Offer: I can move your blog from http to https. If you need the service; contact me now let me do it for you.
But often times these blogs don't open up when loaded with a Chrome browser, even after clicking the "ADVANCED" button to proceed to the website (unsafe), you will still not be granted access.
You can imagine how frustrating this can be when you need to visit your favorite website as soon as possible.
I'm sharing with you exactly what I did to get rid of this issue.
I cannot keep the solution to myself, it will be my excitement if you have this issue resolved in your browser too.
Hot to fix "Your connection is not private" in chrome browser
Permit me to tell you what has been tormenting and disrupting your browsing experience all these while.
This issue is usually caused by free Avast web shield.
I don't know about the pro version, but I experienced this problem when I was using Avast antivirus, the free version.
I did not know that its avast antivirus that has been causing all these problems.
How I got to know that it was the cause of all these problems is what I cannot recall right now!
Now let's fix this "Your connection is not private" together
Open Avast antivirus
Tap on settings at the bottom of the page
Active protection
Then toggle the button off
You will be presented with various options upon the clicking of the toggle button to either stop avast web shield for 10 minutes, 1 hour, until restart of computer or stop permanently.
In this case, I would advice you choose "Stop permanently option" since it has been disrupting your internet activities.
After this, you can restart your computer and use your Google Chrome browser and it will browsing without being selective about which website to browse.
This is exactly how I solved my own. I'm pretty sure it will work for you too.
Were you able to fix the privacy error that said: "Your connection is not private?"
I'm glad you fixed it! That was all I wanted