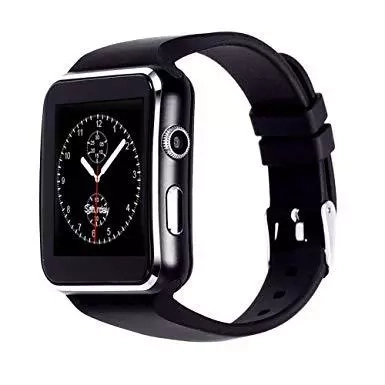 Would you rather use this X6 smartwatch phone to ease the stress of carrying a big smartphone around?
Well, to me it's a yes.
I don't know about you.
You can have this tied around your wrist and with your wireless headset, no one will even notice that you have a phone around you and that you are well connected.
That's great, right? Awesome deal!
Welcome to the X6 smartwatch phone full specification and review page where you will get to find out what this X6 smartwatch phone has got for you.
Before you make your final buying decision, you need to find out its feature so you can know if it has the desired specifications you would look for in a smartwatch.
This smartwatch has basically two colors which you can choose from. You can choose your desired color from either black or white color but the specification remains the same.
When you buy this smartwatch, included in its box is a USB cable and a charger. No headset included.
But to add more beauty to it, you can buy a wireless headset and pair it with the Bluetooth of the device.
The smartwatch has a charging port at the side of the device.
Though it is covered with the port cover to prevent dirt to get in there.
The watch is a 1.5″ LCD touchscreen, it can only be a touchscreen. How would you use a device that is described as "smart" and then the screen is not a touchscreen? Then that is not a smartwatch.
It has a rubber band which you can wrap around your wrist.
The adoption of this high-quality rubber band material makes the device really comfortable to wear.
The rechargeable battery is fixed at the back of the phone as you would have on any wristwatch.
But this time, once you open the back, then you have taken out the battery itself from the device.
When taking off the battery, there you will see some slots which you can slot in your SD card and your SIM card.
Once you have these things installed, you can put back the battery of the device.
It also has menus as you would have on your smartphone which will help in the operation of the device.
You have a dialer which you can dial a phone number and make calls, send messages and do lots more things, as you would with your smartphone.
It is advisable that you check if you have GSM850/900/1800/1900MHz in your area as this smartwatch only supports that network and it is unlocked for global use.
You are advised to check this even before making plans to purchase the product.
So check for local area network compatibility before you buy.
You can also enjoy good music anywhere and anytime with the device.
If you are a sports lover it will also interest you to know that this smartwatch has a Pedometer that will help you keep track of your sporting activities.
It helps you count the distance you have covered.
It also has a calculator, sound recorder, alarm and a calendar that's more like any other phone would have.
The device has a resolution of 240×240 pixels with a Camera of 0.3MP on the right side of the device frame.
Well, that may not be considered great photo capturing.
X6 smartwatch phone specification tabulated for better understanding
Basic Information
Type: Watch Phone
CPU: MTK6260
External Memory: TF card up to 32GB (not included)
Network
Wireless Connectivity: Bluetooth,GSM
Network type: GSM
Frequency: GSM850/900/1800/1900MHz
Bluetooth: Yes
Display
Screen type: Capacitive,IPS
Screen size: 1.54 inch
IPS: Yes
Screen resolution: 240 x 240
Camera
Camera type: Single camera
Front camera: 0.3MP
Video recording: Yes
Connectivity
SIM Card Slot: Single SIM(Micro SIM slot)
TF card slot: Yes
Micro USB Slot: Yes
Speaker: Supported
Media Formats
Picture format: JPEG,PNG
Music format: MP3
Video format: AVI,MP4
Languages
English, Spanish, French, Russian, Portuguese, Italian, German
Additional Features
Additional Features: Alarm,Bluetooth,Browser,Calendar,MP3,People,Sound Recorder
Package Contents
Smartwatch Phone: 1
Battery: 1 x 450mAh Battery
USB Cable: 1
Dimensions
Product size: 4.56 x 4.13 x 1.25 cm / 1.8 x 1.63 x 0.49 inches
Package size: 10.70 x 9.20 x 8.00 cm / 4.21 x 3.62 x 3.15 inches
Product weight: 0.056 kg
Package weight: 0.275 kg
Now you know all that you desired to know about the X6 smartwatch phone, would you rather consider this product?
Let us know what you think about the X6 smartwatch phone.