I'm not quite sure why your Windows 10 start menu is not working, but how would you shut down your Windows 10 powered computer without the power option?
Apart from the shutdown option, with Windows 10 start menu not working, you cannot explore other Windows 10 power options such as hibernate, sleep and other features.
That's certainly not a good experience.
If you are having this issue, I'm glad to tell you that I found a lasting solution to this problem.
No need for Windows 10 start menu troubleshooter or whatsoever, following the tips I'm about to share with you will get this problem fixed permanently for you.
Ever since I began my journey with Windows, with all the evolvements in the Windows operating system from what it started from to the current Windows that we are using now (Windows 10) there has never been a day that my start button doesn't work.
A user once told me that his Windows 10 start menu stopped working after creators update. All of that will be fixed here today.
Irrespective of what is preventing your Windows 10 start menu from working, this tutorial will help you fix it yourself. There will be absolutely no need for you to take the PC to a technician when you can follow this guide and have the problem permanently fixed by yourself.
You may think that your start menu stopped working because your system hanged, but after several times of restarting the computer, you still have the problem persisting.
There is a Windows software that is called Start Menu X, I mistakenly uninstalled that software in a friend's computer while I was trying to uninstall some software that was responsible for the background data usage in his computer.
I did not even know that the PC I was working on had a start menu problem, So after the software was uninstalled, everything in the taskbar including the start menu stopped functioning.
I had to go in search of the executable file for that software since I had no raw file. I did not have it saved in any way.
After the re-installation of this app, everything in the taskbar started working fine including the start menu.
So in the course of the post, we'll be fixing our Windows 10 start menu problem using this method.
There are other Windows start menu replacement software, but in this case; we'll be using Start Menu X PRO.
How to FIX Windows 10 start menu not working
The first step to getting this done is to search for the software and download.
I would say you should go and search for the software and download but I have done that for you already.
Once you have the software installed, it starts working automatically, there are no special settings for it to start reactivating your Windows start menu.
Once you have successfully downloaded the software, install it and it will start affecting your Windows 10 start menu.
Note: once this software is installed on your computer, you will no longer have the usual Windows 10 start menu graphical interface.
You should see something similar to the image below: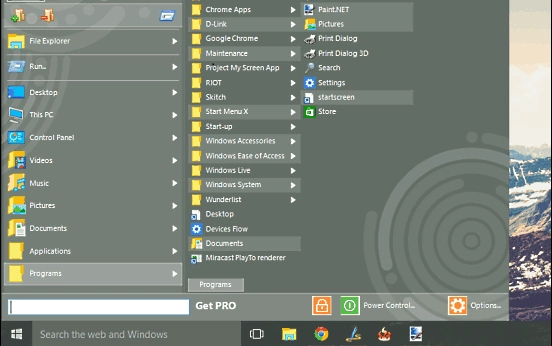 Should in case you have a slight change in the graphical interface of your Windows 10, you shouldn't be surprised.
If your Windows 10 start menu not working, you now know how t get it fixed by yourself.