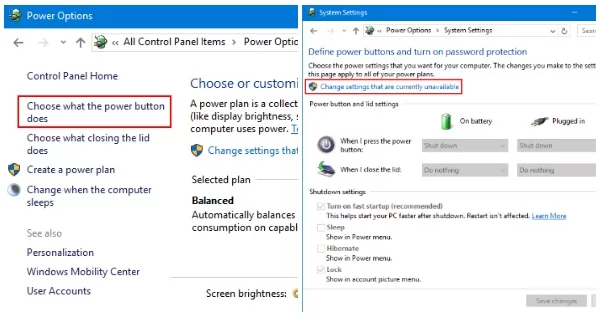 Windows 10 sleep button missing is another complaint I got from a user of this blog who is using Windows 10 after my publication about enabling hibernate option in Windows 10.
So if you are one of the users who is searching for how to add sleep option in Windows 10 power options, I will walk you through very simple steps to enable sleep mode in your windows 10.
The case of sleep option in Windows 10 is quite different compared to that of Windows 7 that you will just have the sleep option listed in your shutdown menu once you have Intel graphics driver installed on your PC.
No special setting is required to get a sleep option in Windows 7.
Enabling sleep option in windows 10 is a very simple thing to do, and here, you will have all the steps involved listed.
It promises to be very concise and straight to the point post.
In Windows 10, you have the option to choose what power button does by selecting the available shutdown settings.
If the "sleep" option is deselected in this case, you may not have it listed in the power options when you want to shutdown your PC.
Of course, the sleep checkbox was not checked, that's why you had your sleep button missing that you came searching for this page.
Since you want the sleep button to be listed in the shutdown menu, here is exactly how to get it fixed.
Windows 10 sleep button missing? Fix it NOW!
Click on the battery icon in your taskbar
Tap on more options to display the power options
Check the left corner menu and you will see "Choose what the power button does" click on it
You should now see the sleep, hibernate and other options listed in the shutdown menu, but greyed out
Now you will not be able to select or deselect an option, click on "Change settings that are currently unavailable"
Now you should be able to choose the options you need in the shutdown menu
Click now on "Save changes" and restart your system or you shut it down and turn it back on when you want it.
I hope this brief piece helps you find the missing sleep button in your Windows 10 powered computer?
Let me hear from you if you were able to fix it!
But I have to go now, the bed is already calling.
…talk soon