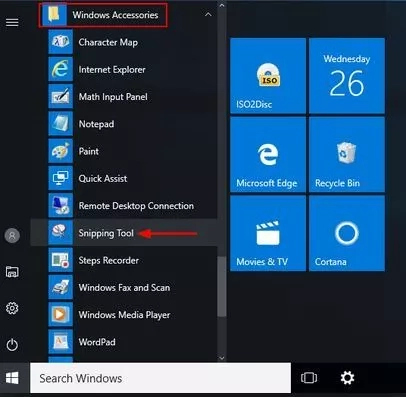 Where do I find the snipping tool on my computer? Other windows users are asking a similar question, so you are not alone.
If you have been searching for where to find snipping tool on your computer, here is the page for you.
Snipping tool is used by windows users to capture the screen of your computer; in case you do not have the "PrtSc" key on your keyboard, the snipping tool will capture the screenshots of your computer.
With snipping tool for windows, you do not need a special software to be installed on your computer to capture screenshots on your computer.
Some of the tutorials that I've been sharing on this blog would not have been possible without the capture of screenshots.
So in this post, I will share with you where to find snipping tool in Windows 10, Windows 7 and other windows.
Snipping tool categorized under "Windows Accessories" in windows 10.
Finding snipping tool in windows 10
As mentioned above, snipping tool is categorized under "Windows Accessories" in windows 10, to use snipping tool in windows 10, tap on the windows key on your keyboard or you click on the start button in your computer taskbar.
Click on all programs, scroll to windows accessories, open the folder and boom! You will have your snipping tool listed there among other utility apps such as notepad and others.
Finding snipping tool in windows 7
In Windows 7 finding sniping tool is a bit different, compared to finding snipping too in windows 10.
Though the step is a bit different but its pretty similar.
In Windows 7 click on the windows icon in the computer taskbar or strike the windows key on the keyboard, click on "All programs" then open accessories folder then you will see the snipping tool there.
Now that you have finally located the snipping tool, you might want to pin it to your taskbar if you have the need to be using this tool frequently so that you don't need to be going through this whole step each time.