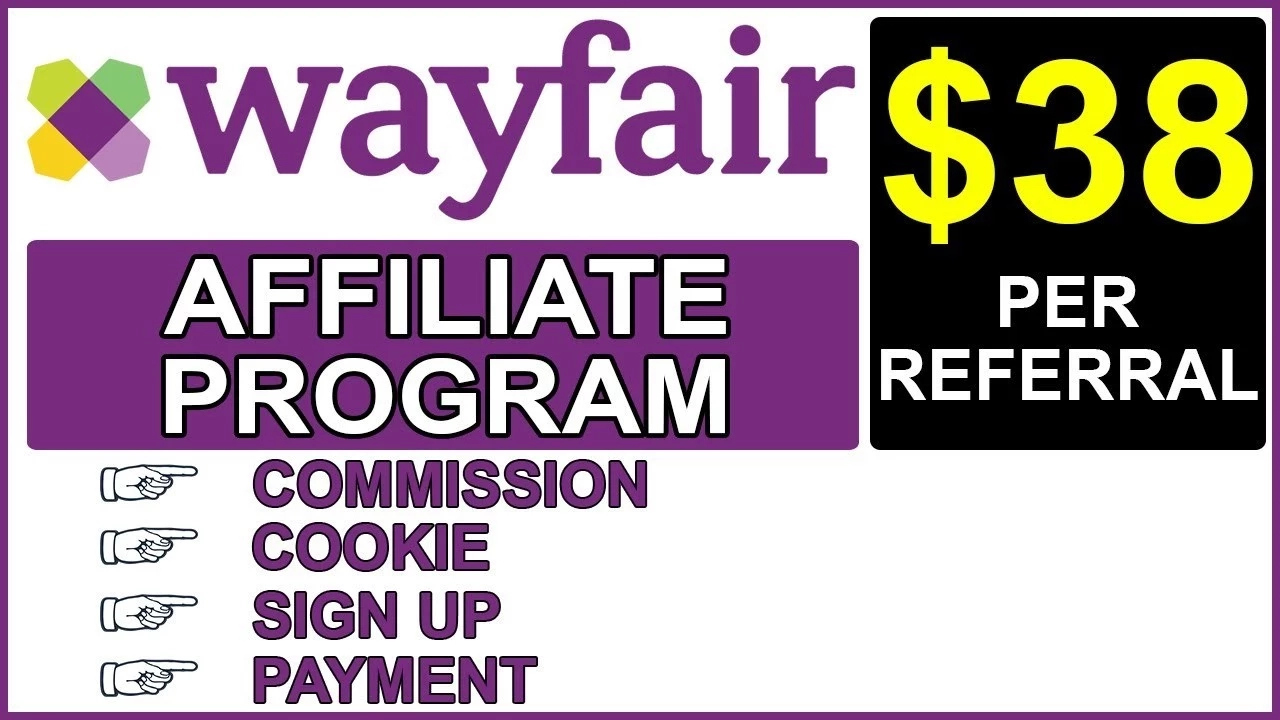 If you have been seeking to know one or two pieces of information about this program, then you are welcome to this powerful guide about the Wayfair affiliates program.
This post promises to share with you everything you need to know about the affiliate program.
You will also get to know the benefits of joining as one of the affiliates as well as the best way to join and start making money.
Of course, the goal of anyone that joins an affiliate program is to make money.
If not, what else?
The Wayfair affiliates program is offered and managed by Wayfair Inc., a leading home furnishing and décor brand that came alive in 2002 and is based in Boston, Massachusetts, United States.
Although the company has a physical presence, most of its activities are done online using e-commerce.
The company is reported to host over 7 million products in its catalog and generates over 10 million orders yearly.
Hence, Wayfair Inc. is recommended.
You should sign up for the Wayfair affiliates program if you have an interest in or own a website about home furnishing.
Even if you are not inclined to home furnishing you can try out the program and promote the products to your audience.
Who knows?
Your audience might be interested in the products and purchase from you thereby fetching you extra income.
In this article, I show you how to become a Wayfair affiliate, how to promote their affiliate products, and how to make good money for yourself as a Wayfair affiliate.
What the program is all about
The Wayfair affiliate program is one of the best that you can find in the home furnishing and appliance market.
Compared with other retailers, Wayfair has one of the best product catalogs.
Also, they have good support although their affiliate payout is small (5% – 7% commissions).
Besides, you are eligible to earn an affiliate commission for purchases made within a 30-day cookie window.
Also, if someone who has a Wayfair Pro account orders via your link, you are not eligible for any commission.
How to join the Wayfair affiliate program
To join the Wayfair affiliate program, here are the steps:
First, you will enroll on CJ Affiliate, formerly Commission Junction, and set up your CJ Affiliate account.
After this, you will sign up for Wayfair Affiliate Program inside your CJ affiliate account.
Once your application is successful your Wayfair Affiliate account will be activated and you will receive an email to that effect. You will then be able to access links to products that you wish to promote.
You earn a commission from the Wayfair Affiliate Program for every purchase made using your affiliate link.
You earn more income as the number of people buying with your affiliate link increases.
Benefits of becoming a Wayfair affiliate
Many Products To Recommend
Wayfair has tons of products that you can choose from and promote.
You can review these products on the data feed and get an affiliate link for each of them for promotions.
They are a team of committed affiliate management.
They offer support around the clock.
You can call or email them with any queries or complaints, and they will address them within the same day.
Competitive Commission Rate
You earn between 5% – 7% in commission rate for sales made.
An average order in the Wayfair catalog costs about $300 which averages $15-$21 per sale.
Thus, there is a potential to make a significant commission if you get at least 40 orders per week.
With good marketing skills and a sizable, interactive audience, your affiliate links could generate a lot of income for you.
Throughout the year, Wayfair randomly picks and promotes affiliate links of its affiliates.
This helps to greatly reduce your marketing cost/budget as an affiliate.
Your affiliate links may be included in the company's paid campaigns thereby earning you free money without any work.
These ads are run all through the year.
Deep Link To Specific Products
With the CJ Affiliate product bank, you can link to and promote specific Wayfair products, especially the ones you like, and have quality content to promote.
This makes it easier to gain traction with your audience and make sales faster.
Genuine content encourages clicks that convert to sales.
How to join the program
Joining the Wayfair affiliate program is easy and simple.
Kindly follow the steps below to enroll:
Step 1: Create a CJ Affiliate account by submitting your email and setting up a password for a new account.
Step 2: Read and agree to the privacy policy, software policy, and publisher service agreement on the site.
Step 3: Complete the onboarding checklist by submitting the following:

A description of the methods you will use to promote products.
A detailed report on how you are doing business.
Information about where and how you will promote Wayfair products.
Your company details.
Tax forms.
Payment information.
How to make money when you become a Wayfair affiliate
Use Affiliate Marketing Tools
Optimizing your affiliate links with core affiliate marketing tools can save you a lot of time and energy but fetch you money faster as a Wayfair Affiliate.
This includes tools like:
Email marketing tools (GetResponse, MailChimp, Aweber)
Google Ads
Facebook/Instagram Ads
Sales funnel tools (Elementor, Thrive, Architect, Divi, etc.)
Content Management tools like WordPress, Blogspot, etc.
These tools help you to track, edit, plan for, and convert your affiliate links into monetizable assets.
For people to purchase Wayfair's products using your affiliate links, you must have content, quality content.
Thus, it all begins with creating quality content.
Quality content attracts lots of eyeballs and clicks which would convert into money.
Whether you have a YouTube channel, website, blog, or social media page, ensure that you consistently post good content.
Compared to other niche affiliate programs in the home décor niche, the Wayfair affiliate program is one of the few that offer numerous advantages.
However, you can make a lot of money with this affiliate network if you own a digital platform like blogs or buying guides to promote Wayfair through affiliate links.
Just like every other affiliate network you earn a commission when someone buys the company's products with your links.
The program strives to provide you with a sustainable income in the home furnishing and decoration niche.
Sign up for the program today and you'll be glad you did.