Wanna bypass or remove completely the Spreadtrum FRP? Here is the unlocker FRP Mi account remover download page that will help you achieve that.
It's actually a free download, so not to worry about spending some bucks to get this downloaded.
It's a Windows software, so to be sure it works properly for you, you must make sure you have a Windows PC with you.
I'm not quite sure if this software is available for Mac users, but if I eventually find it; trust me, I will still share it with you.
But if you have a pressing need to use this unlocker FRP Mi account remover software as a Mac user, you can get any Windows PC and use it.
A friend own can be of immense help, too.
Once the software is successfully downloaded and installed, you can run it by simply selecting the Xiaomi or Spreadtrum and then click on the start button for the remover to start the removing process.
While this is running, simply go to fastboot mode and connect your Mi device to the computer, type Y and hit the enter button.
The brief summary of the Unlocker FRP Mi account remover software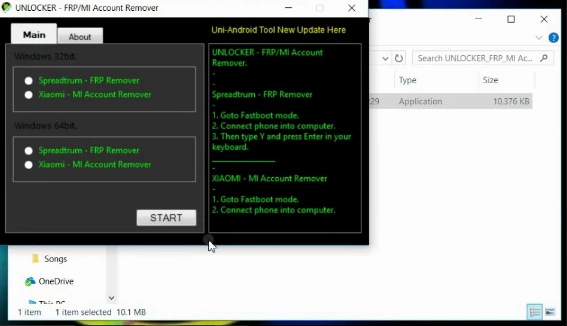 Just so you know what you are about to download into your PC, you need to have some details about it.
Such as the file size, version and other important things about the software.
The file size is 10.1MB. That means you must have at least 11MB worth of data cap before you start the downloading process.
The file version is v1.0. If there will be some updates in the future, I will also share it with you.
The file name is Unlocker_FRP_MI_Account_Remover.zip with an alternative name as Unlocker FRP MI Account Remover.
Now that you know these details about the Unlocker FRP MI Account Remover software here is the direct download link of the software.
Unlocker FRP MI Account Remover
Please note these:
So you don't have any hitch in the cause of using this unlocker FRP Mi account remover software, it is important to note that the software works flawlessly on the major Windows operating systems.
Recommended Windows versions to use in running this software are Windows 10, Windows 8.1, Window 8, Windows 7, Windows Vista, and Windows XP.
Those are the compatible Windows version to run unlocker FRP Mi account remover software.
Please make a backup of your device before trying this. Flashing any file or recovery may brick your device.
You should also try this with caution.
I will not be responsible for any damage this software may cause to your device.
Full credit goes to the unlocker team who are the creators/distributors of the unlocker FRP Mi account remover.
I hope this helps.
Have some more questions?
Don't forget to leave them in the comment section.