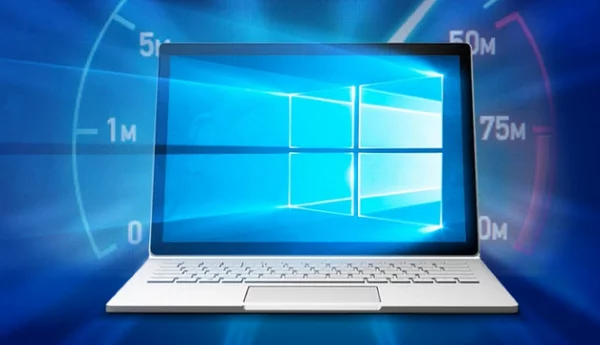 These tips will help you speed up your computer. Your system performance will be enhanced with these tips.
A slow system makes you prone to sleeping while on duty, the seconds you are waiting for it to perform a task is enough for you to take a nap 😆
To be productive in your place of work, you need a system with a fast performance – I mean performing at the speed of light. Is that really possible? 
But you wouldn't want to receive a query from your boss.
Just using that as an instance. You can use these tips to fix your personal computer too.
If you are running Windows 10 and it's running slow for you then you've got some good news right here.
If you really mean it that you want to speed up your Windows 10, you will have to read through the lines to learn the steps involved in speeding up your Windows 10 powered computer.
Until you read through this page, you will not know how to speed up your Windows 10 computer.
In this article, I will show you quick ways to easily speed up the performance on your Windows 10
laptop or desktop PC.
Some of these tips may help you out if you're running in lower end mid-range system to reduce lag in gaming increase your boot time and improve your overall performance.
Not to worry, these will all be system tweaks with no need to download any software or purchase any new hardware.
1. Uninstall programs
When you purchase a new computer it sometimes is loaded with unwanted software often referred to as crapware or bloatware and sometimes we install programs we no longer need.
Getting rid of these programs will help because many programs load processes when your computer is booted that can take up valuable RAM and CPU cycles.
To uninstall these programs let's find the control panel in our Windows 10 computer and uninstall the programs you no longer want.
Please note: You can only uninstall one program at a time.
Other than freeing up RAM, you'll also free up hard drive space too.
2. Stop startup programs
Your Windows 10 will launch several programs at startup so they're available when you need them.
The problem is that they can slow down your computer.
To disable some of these programs from starting up, right-click on your taskbar, select task manager select the startup tab at the top.
If you find a program that you don't need to startup when Windows launches right-click it and select disable.
If you're unsure whether a program is needed then leave it enabled it's better to leave a program enabled than to disable a needed program.
3. Power settings
Windows 10 has a power saver plan which will save energy but will also slow down your PC.
Tap on Windows button then settings select system in the left column, select power and sleep now select additional power settings.
In my PC the system is currently set to power saver.
Other options are balanced which is recommended, it will balance performance with energy consumption.
The other option is high-performance virtual favorite performance but may use more energy I'll now change it to high-performance.
If you're on a laptop you should consider balance when unplugged and high-performance when connected to a power source.
On my laptop, I find the power saver mode slows down my computer too much.
4. Transparency
The Windows 10 see-through effect known as transparency is cool but does use a small amount of resources.
To turn it off while in the settings menu, select home in the upper left-hand corner then personalization in the left column select colors then scroll down and toggle off transparency effects.
5. Troubleshooter
The Windows 10 troubleshooter can help to find and possibly fix any issues that may be affecting your PC's speed.
For this one, it's best to go to the old control panel so search control panel in the Cortana bar then select it.
Select security and maintenance then below security and maintenance, select Troubleshooting.
Then below the system and security heading select "Run maintenance tasks" then select advanced.
Make sure apply repairs automatically is checked then select next and follow the on-screen instructions.
6. Special effects.
There are a lot of special effects that are built into the operating system, some of those can slow your system down.
In the Cortana bar, type "Advanced settings" then select it.
Under performance, select settings now you're in the performance options menu.
In the visual effects tab, you can choose either of the 4 options available
Let Windows choose what's best for my computer
Adjust for best appearance
Adjust for best performance or
Custom
My recommendation would be to select the first option "Adjust for best performance" or you could select
custom and unselect the visual effects that you feel you don't need.
When you're done, click OK.
7. Run a system scan
You should run your favorite system protection software on a regular basis to check for viruses malware and spyware.
Windows Defender is built-in or you could use a third party software like Malwarebytes or something
similar.
8. Boot menu
When you turn on your PC, there will be a boot menu that will be displayed for a short period of time before your operating system loads.
While the boot menu is displayed, you can do things like start Windows in Safe Mode.
The boot menu time is 30 seconds by default so make sure you change that.
I wouldn't go anything lower than ten seconds to give you some time to use the boot menu when you need it.
When done, select "Ok"
9. Disk cleanup
This handy utility is great for getting rid of unwanted files on your PC. In the search bar, type in "Disk
cleanup" and select it.
You can use disk cleanup to free up a good amount of memory space of disk space.
Cleaning up the disk space will enhance the speed of your Windows 10 computer.
10. Background apps
Microsoft allows a lot of programs to run in the background this is great to access their features quicker but it's a waste of system resources if you don't use them on a regular basis.
So make sure you toggle off any app you don't wish for it to be running in the background.
11. Notifications
Windows 10 has a lot of notification options that when turned off may slightly improve your performance.
Scroll down the list of notification options to turn off all unwanted notifications on your Windows 10 computer to speed up its performance.
12. Cortana
Microsoft is persistent with Windows 10 to make sure that you use Cortana.
Many of you have expressed your opinion that you don't like Cortana for many reasons including privacy concerns.
There used to be an easy way to get rid of Cortana but now, other than doing a registry hack the options are limited.
Here's a simple way to reduce some of the resources Cortana is using.
Click on the Cortana search bar, select settings, for every option that is turned on toggle them off.
Microsoft really wants you to use Cortana so if you toggle these off now, don't be surprised that with future updates if Microsoft automatically turns them back on again.
If all these tips fail to give you the speeds that you desire, it may be time to upgrade or replace the hardware on your PC.
My first Hardware fix is to upgrade your RAM.
In my experience, in every system where I've upgraded the RAM, I've always seen a noticeable improvement in the overall speed and on most computers, it's not that difficult to do.
Let me know in the comments if you have any other useful tips for increasing the speed of Windows 10.