We consider these 10 laptops in Nigeria to be very pocket-friendly, that is why we are sharing you this list of top 10 affordable laptops in Nigeria and their prices.
Many times often, people have gone in the quest of searching for cheap/affordable laptops which can fit into their budget.
However, being a gadget freak myself I quite understand how it feels to actually spend your money on something and not really get the most value out of it.
On this note, a lot of articles have been written and published over the net on the most affordable laptops that you can buy.
While this article will also be enlightening you on the most affordable laptops one can acquire on a low budget, I will also be recommending laptops which will actually suit your needs and provide you with efficiency.
Below is a list of the top 10 affordable laptops one can get in Nigeria and would not actually regret getting any of them.
NOTE: recommendation will not follow any particular order, but will give you an insight on what operations should be carried out on these laptops in order to get the most value for them.
Listed in no particular order of preference.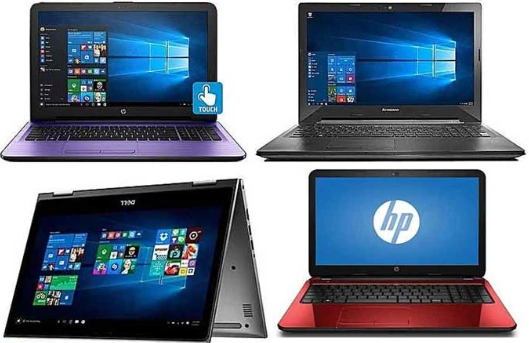 HP 15-ay000nia NOTEBOOK (85,000)
Intel processors are loved by many because of its many advantages when compared to other forms of processors, and that includes me.
For one reason which I believe is the most important reason is the Intel's ability to regulate its laptops temperature.
If you are a newbie in the purchase or use of a laptop, you should know high temperature from laptops cause a lot of issues to both user health and that of the laptops capacity to run efficiently.
The HP 15 possesses the following specifications/key features.
Display size of 15.6" with HD resolution.
Intel Celeron processor, 1.6GHz
4GB RAM and 500GB HDD
Comes with Windows 10 operating system.
Up to 12 hours' worth of battery life
Having a laptop with these sorts of features and for such a prize will provide users with the capacity to perform quite some heavy tasks without having the gadget freeze on you.
The large HDD and RAM coupled with the Intel processor will give any user a smooth usage as long as heavy apps such as HD games aren't running on it, not to mention the HP brand as a recognized and trusted brand.
ASUS VIVOBOOK X541SA-X0017T (68,990)
Although Asus is a new brand we have come to see in Nigeria, it did manage to tie with Acer brand at 4th place this year (2018).
This shows great promise for a new company, not to mention the great features and sleek designs their laptops have been known to bring into reality as seen in their earlier products, and this very model isn't any different.
The ASUS VIVOBOOK possesses the following key features which help it make this list of top 10 affordable laptops in Nigeria.
Intel Celeron processor
500GB HDD with 4GB RAM
Up to 7hours battery life
Windows operating system
With these specifications and price, I have no doubt that the ASUS VIVOBOOK is a perfect choice for a low budget laptop.
HP PAVILLION 15-F272WM NOTEBOOK (100,500)
This is probably one of the most efficient laptops on this list, and although the price might actually be on the high side.
However, comparing the high prices of laptops today which is slightly due to the rate of dollar to naira conversion in the market, I did say its still worthy to be on the affordable laptops margin.
The HP-15-F272WM is a powerful laptop which comes with a dual-core Intel Pentium processor which gives it an edge in processing speed and the ability to handle more task.
This laptop can be comfortably used for quite some great gaming experience in the right conditions as well as for programming and graphic designing.
Below are the key features of the HP PAVILLION 15-F272WM NOTEBOOK laptop.
Intel dual-core Pentium processor 2.50GHz.
500GB HDD as well as a 4GB RAM.
6 inch and a crystal-clear HD display
A long-lasting battery of up to 12 hours.
If you happen to be in the search for affordable laptops in Nigeria which will enable you to carry out your graphic design jobs without difficulties or just looking to play HD games, this laptop is for you.
I-LIFE ZED AIR PLUS (77,500)
If there is one thing I would say catches my attention with I-LIFE laptops, it is simply the beauty of their products.
The I-LIFE ZED AIR PLUS like every other I-LIFE product is a beauty mixed with great performance and below are its features.
4GHz Intel Celeron processor
6-inch HD display
3GB RAM and 500GB HDD
Webcam
Bluetooth
The laptop sure qualifies to be on the top 10 affordable laptops available in Nigeria.
SAMSUNG SERIES 3 300E5A-AE1 (66,500)
Samsung is a well-known an efficient brand which is backed up by a team of highly experienced and skilled developers.
However, Samsung products have been known to be quite expensive but this great brand also understands the need to have the low budget users in mind.
The following is the key features of the laptop.
2GB RAM coupled with 320GB HDD
6 inch with LED display
Intel Celeron processor
DVD rom
This laptop further provides lightweight which allows it to easily be moved from place to place.
Although the features seem lower than most in the list, this laptop is still quite efficient but only recommended for light users looking for known brands at an affordable price.
HP 225 (80,000)
Some might wonder why HP seems to dominate the list.
Well, the answer is simple, HP is one of the best laptops producers out there who actually care about affordability and performance.
This product comes with the following features.
Quad-core AMD processor
4GB RAM and 500GB HDD
Intel HD graphic with 15.6 inch
Backlight display
WIFI, Bluetooth, webcam and more
Long lasting battery
Although the earlier versions of AMD processors left a lot of people frustrated, the company has learned from their mistakes and now creates quality processors.
With this laptop running on a quad-core processor coupled with Intel HD graphics, it has what it takes to perform well even with heavy usage.
HP STREAM 11 NOTEBOOK (60,000)
This is one of the cheapest laptops in the list yet it provides great efficiency for users.
The following are the laptops key features.
Dual-core Intel Celeron processor
6 inch
2GB RAM coupled with 12GB HDD
Long lasting battery
The laptop maybe poor on features but it promises great design and to help you out with your busy day.
This is probably the best laptop for very light users e.g. writers/bloggers etc.
DELL INSPIRON 2018 (65,000)
DELL INSPIRON is a new product in the market and provides affordability and durability for its users. DELL has long been known for their strength and durability and this here possesses all that at a good price.
Features include:
HD display at 11.6 inch
55GHz AMD Processor
4GB RAM and 32GB HDD
Webcam
This laptop is also a good budget for light users.
HP 255 G6 NOTEBOOK (80,000)
Though not so cheap, it does provide a great experience for both heavy and light users.
Its features include:
AMD APU E2 processor
500GB HDD coupled with 4GB RAM.
6 inch with HD display
Bluetooth and more.
ACER ASPIRE 3 A315-31-C2LW (80,000)
ACER is another wonderful product out there, and they have always provided their customers with good products I must say and despite the competition in the industry they have done quite well for themselves.
The following are features of this product:
4GB RAM and 500GB HDD
40GHz Intel Core i3 processor
HD display and 15.6-inch display size
Long lasting battery
This product is power packed and will serve heavy users well no matter their endeavors. At its price, the ACER ASPIRE makes a wonderful laptop.
Conclusion
Majority of tech blogs out there just conjure up this list without accurate findings/research, but we at Techinformat.com, provide you with well detailed and research facts which will benefit you at all times.
Majority of the prices gotten for this article are from Nigerian online stores such as Jumia and Konga, and these prices are sometimes even cheaper in retail stores in your locality.
However, if you lack where to start your search, the aforementioned online stores will serve you great, or you can take a walk into any laptop store in your locality to check things out.
That's our list of the top 10 affordable laptops in Nigeria and their prices.
Do you know any cheap/affordable laptop that you feel should make it to this list?
Please let us know about it.