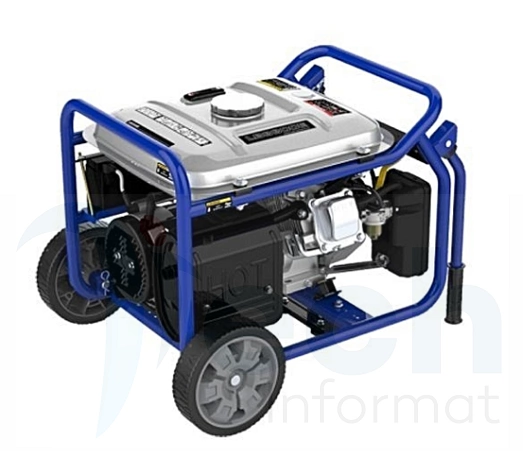 If you wish to buy a 3.5kva Thermocool generator, you might want to read through these specifications to check if it meets your demand.
It's not too long I wrote about the price of 3.5kva Thermocool generator & where to buy; not the full specifications and review of Thermocool TEC Gen PTR Major 3500ES 3.5Kva/2.8Kw.
Read the full specifications of Thermocool TEC Gen PTR Major 3500ES 3.5Kva/2.8Kw below:
Required
Product Description
Gasoline Generator Set
Warranty: month
1
Load required
5 pcs 60W bulb, 3 pcs 100W fan, 1 pcs 200W TV, 1 piece 75W Home Theatre, 1 piece 100W DVD, 1 piece 50W DSTV Decoder, 1 piece 1.5hp AC, 1 piece 250 ltrs large size fridge /freezer
Product storage temperature: ℃
5-60
Technical Details
Customer Model
TEC Gen PTR Major 3500ES 3.5Kva/2.8Kw
Performance
Power Output (Max) : W
3000
Voltage : V
230
Current : A
12.2
Frequency : Hz
50
Voltage DC : V
No
Current DC : A
No
Fuel consumption : L/(Kw.h)
0.58
Fuel consumption (rated output) : L/h
1.16
Oil consumption : g/(Kw.h)
1.20
Noise level (7m from front side) : dB(A)
72.00
Other
Power Output (Rated)
2800
Electrical
Start method
Electric+Recoil
Socket
Locking, 2
Plug
Locking plug
Digit AVR
Yes
Battery type
BS, 7 Ah
Remote controller
No
Engine
Crankcase Material
Aluminum
Cooling style
Forced air cooling
Cylinder Qty
Single
Max Power : kw/rpm
4.0
Smart throttle
No
Compression ratio
8.2:1
Oil capacity : L
0.6
Carburetor automatic fuel shut-off
No
Low oil shut down
Yes
Recoil starter handle direction
12 o'clock
Gasket–Asbestos free
Yes
Certification
Safety Standard
SONCAP
Standart conformed
ISO9001
Emission level
Euroll
Certification
Evaporative
N/A
Alternator
Stack Length : mm
Φ160×120
Rotor Windings
Copper
Stator Windings
Copper
Excitation
Carbon brush
Temperature Rise (Rated Load)
≤105K
THD
≤20%
Panel
Material
Steel
Main Circuit Breaker : A
13
Engine Switch
Push
Sockets
2
Voltmeter, VFT 3 in 1
Yes
Vibration absorber
4
DC output
No
Frame
Paint color
Blue
Frame
Frame tube diameter : mm
25
Wheel and Handle
Handle bar
2
Supporting foot
Single
Wheel color
Blue
Wheel number
2
Wheel type without bearing
8″
Supporting foot color
Black
Handle bar sheath
PVC
Handle bar color
Black
Fuel tank
Fuel spill direction
Toward dipstick
Ventilation Mode
Tank cap
Full load continuous running time : Hours
6.8
Fuel level indicator
Yes
Fuel tank
Tank Cap
Buckle
Half load continuous running time : Hours
10.3
Color scheme
Control panel color
Black
Frame color
Blue
Color scheme
Alternator end cover color
Black
Recoil starter color
Black
Fuel tank color
Grey
Package
Recommended Stack Height
5 layers
Net/Gross weight : kg
51/54
Package
Carton
5 fluting paper
Packing (W*H*D) : mm
610*465*465
Dimension(W*H*D) : mm
590*440*440
Accessories Option
Manual
Yes
Hardware Tooling
Yes
Warranty Card
Yes
Plug
Yes
Oil Funnel
Yes
Now you know the full specification of Thermocool TEC Gen PTR Major 3500ES 3.5Kva/2.8Kw, here is where to buy it. If you have any question or an honest review, please leave it in the comment.