Here, I will walk you through some pretty easy steps you can follow to take a screenshot on Windows computers.
This guide will not require you to install any software or app on your computer to be able to take screenshots on your Windows computer.
Personally, I use two methods to take a screenshot on my Windows computer.
All of that will be shared in this page here today. So if that is what you wanted, make sure you stay glued.
The Windows OS was built with taking a screenshot in mind.
With this, you do not need to involve a third party to be able to take a screenshot in your Windows computer.
Even though there are third parties offering this service, but there will be absolutely no need to involve them when you have the feature on your Windows by default.
Enough of the stories!
Let me go ahead and share with you the two methods I have here to enable you to take a screenshot on Windows.
How to take a screenshot on Windows computers
— Method 1: The first method I want to share here is the snipping tool.
As said earlier, this tool has been bundled into the Windows OS for a very long time now right from the inception of Windows Vista.
Maybe you just dropped a Mac for Windows, then this might be a hidden feature to you.
This snipping tool has not received any updates from inception apart from the bug fixing after the first release.
There is more to the snipping tool than just taking a screenshot.
You can also use the snipping tool to highlight parts of the image using the color pens, as well as send the image via email.
Well, today was not a day to review the Windows snipping tool, but just so you know a bit about it.
Note: In situations where you have to take screenshots that involve, tooltips, popups or mouse movement, you may have to use the print screen method which is also part of how to take a screenshot on Windows computers in today's post.
In a more recent Windows version such as Windows 10, the snipping tool has some more updated features.
Some of them are that you can use the improved delay seconds to capture tooltips, drop downs and other screenshots that require a delay before it can be captured.
How to take a screenshot on Windows computers using the snipping tool
The first step here is to choose the type of screenshot that you want to capture.
Open the snipping tool and select new.
In my case, I have the snipping tool pinned to my taskbar because I use it more often.
To open your snipping tool, open your computer's accessories folder and you will find it there.
When you want to snip a new screen, there are 4 options from which you can choose from.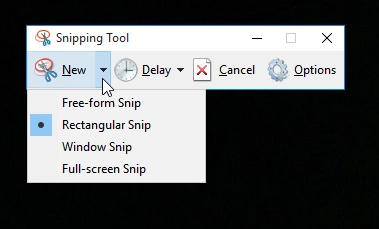 Choose the one that suits your demand.
If your delay is set to 0, you will have your screen fade away immediately so you can snip the part of your computer screen that you want.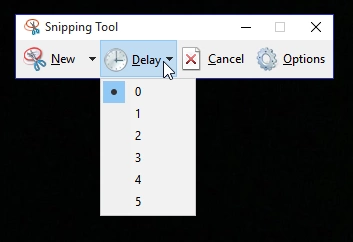 But if you selected any time from the delay options, you will have to wait for the number of seconds you selected to elapse before you can capture your screen.
This is the option you will use in capturing pop-ups and drop down menu list.
You may not have this delay option in your snipping tool if you are using any Windows version earlier than Window 10.
— Method 2: Another method I personally use take a screenshot on Windows computers is the prt sc option.
Though this method may not work in your Windows PC if not properly driven.
The complete drivers, the system needs to be installed before the print screen feature can function effectively.
So if your PC is print screen ready, let's take a screenshot, then.
This is one of the fastest ways to capture your Windows screen, though you may need to crop out some unwanted parts from the captured screenshot.
So to take a screenshot on your Windows, simply hold down the Windows key and then the prt sc button.
Your captured screenshots will be saved to a folder called "Screenshots" your Pictures directory.
Locate the captured screenshot in the directory I just mentioned and decide how to you the picture.
It is the whole Windows screen that will be captured.
So decide whether or not you want to crop out some parts.
There are other ways of taking screenshots on Windows but in the course of this post, I only shared 2.
I may share some more methods later in the future. How about that?
If you have other handy tips regarding taking a screenshot on Windows, please do well to also contribute to the post.
You can also leave questions, too.