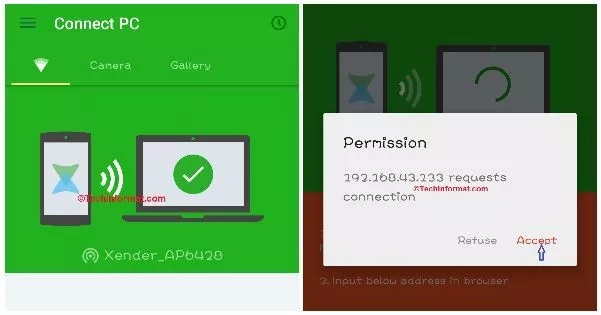 This guide will walk you through the steps to sending files to your computer or pc via Xender.
Irrespective of the type of computer that you are using, this tutorial will work perfectly for you, be it a desktop or a laptop computer.
Windows and Mac users are welcome as these tips on how to connect PC using Xender works both on Mac and Windows computers.
It promises to be step by step guide with images so even a layman will follow and understand exactly how it works.
You know how discouraging/frustrating it can be sending files to your computer using a USB cable, especially when you intend to be dealing with much or large files.
If you are a busy person who wishes to transfer some files using the shortest possible time, maybe in the office, then using Xender to share your files will be an awesome experience.
One misconception about Xender is that its file-sharing capability is limited to Android phones when it can actually perform some unimaginable file-sharing task.
Well, what triggered the publication of this post was the season.
It was already Christmas when I went to visit my friend Godwin Lawson of Ifnigeria when I heard him play a Christmas song by Justin Bieber I would love to have on my device too.
I was just with my Android phone with no USB cable to initiate the file transfer between the two devices.
This was when the idea of using Xender to initiate a wireless file transfer process.
So on this page, I will walk you through the practical steps that I and Godwin went through to use Xender to transfer all the files I wanted to my own device.
The good news is that this file transfer procedure works across all file types.
So irrespective of the file type you intend sharing, you are good!
Be it music, video, pictures, photos, images, or even documents such as word documents or PDF files, this will work for you too.
Enough of the stories!
It's not my intention to get your bored with stories, let's get into the tutorial that will help you use your phone Xender app to send files from your phone to your computer and from your computer to your phone.
File sharing using Xender connects Xender to pc offline so no worries about having data on your phone, even if there is no SIM card in your phone, it will still work!
How to send/transfer files to PC using Xender and from PC to phone
Grab the Android phone from where you want to share the file from and vise versa, I advise you to turn off your phone data before proceeding further.
Open the Xender app – If you do not have Xender installed on your phone you may want to download the apk file of the app (Xender) now and install
By default, once your Xender app is opened, the setting is for sharing files between phones. To switch so it can connect PC, toggle the little button at the top right corner of your Android device (see image below)

After toggling the button, you should see a screen similar to the one below:

Now tab the orange color circle to turn on hotspot on your phone
Once you tap the button, you should see a screen similar to this:

Now connect your computer / PC to the hotspot from your phone with the name "Xender_AP6428". Note: your own hotspot name may differ, this is the case with my own device. Once you get to this step, just check the networks in your system and you will see it listed in your available networks

Once you are successfully connected to the network, open any browser in your computer and type in the IP address given to you, it's likely to be http://192.168.43.1:33455. You might want to bookmark that address to save you the stress of typing it in your address bar each time you want to share a file later on in the future. That's what I do, I just bookmark the address, so each time I want to share some files I will just click on the link from the bookmarks toolbar of my browser once the hotspot is successfully connected.
Now you will be prompted to accept or refuse the connection since you want the two devices connected together, tab on "Accept" on your phone and you will be connected

Once you are connected, you should see a screen similar to the one below;
Congratulations!
You have successfully connected your phone to your computer using Xender, now its time to send files either to the computer or from the computer.
Share a file from the phone to the computer
On the left menu, choose the file type that you wish to share either, photo, video, music, document, app, or directly from the phone storage or SD card.

Now grab the file you want to share and click on the download icon and you will have the filed downloaded from your phone to your computer, not to worry, it's not using your mobile data for the download
Share a file from the computer to the phone
You will follow all the steps above
But on getting to the last step, you will not click on the download button but "Upload Document" button and the file will be uploaded from your computer / PC to the directory that you will choose in your phone.
Should in case you got confused with my expression in the course of trying to understand this guide, I beg your pardon. But could you be kind enough to leave your question in the comment section?
I will be glad to explain it further, just for you to make sure that you understand it better and you can fix it yourself.
Now that you know that you can share files in this wireless form and in a faster way, you may now concentrate using your USB cable strictly for charging your phone 😆
I'm waiting for your comment.
Meanwhile, One of the most common problems faced by most Android users is "Downloading English US" here is a lasting solution
…talk soon.