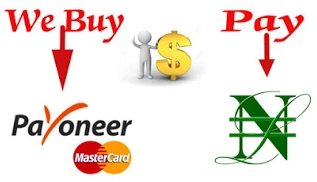 If you have Payoneer funds for sale, finding a credible Payoneer fund buyer should be a major point of concern.
It's not too long I wrote about Payoneer account sign up.
But after signing up and the funds start coming in, how will you sale the funds?
You don't send your Payoneer funds just to anybody without knowing his or her credibility status.
You know it's your sweat and your labor so you wouldn't want to mess with it.
Of course, that is why I'm putting up this page to help you sale Payoneer funds in Nigeria without stress.
If you ask me, I would say every internet marketer in Nigeria has their constant Payoneer fund buyer.
I mean once the Payoneer fund arrives, they simply exchange and have the equivalent respective.
No need to come online to search for who to sale the Payoneer funds to.
If you have Payoneer funds to sale, you can sale it right here on Techinformat.
Irrespective of the amount you want to sale, we will buy it from you.
How to sale Payoneer funds on Techinformat
We buy Payoneer funds at the best rate ever.
There is no better place to sale Payoneer funds than here.
If you want to sale your Payoneer funds from Nigeria, we'll credit your Nigerian local bank account with the equivalent of the amount of Payoneer fund you want to sale.
If you are outside Nigeria, you can tell us your preferred mode of payment and we'll send your Payoneer fund equivalent to you in no time.
So are you ready to sale your Payoneer funds now? Leave me a message let's strike the deal.
You can also tell a friend who has a Payoneer fund for sale to also contact us to sale his funds.
Note: the funds you intend to sell to us must be from a trusted source – Google, Fiverr, Upwork, Amazon and other big names.
Ready to sale your Payoneer funds? Leave a message here.