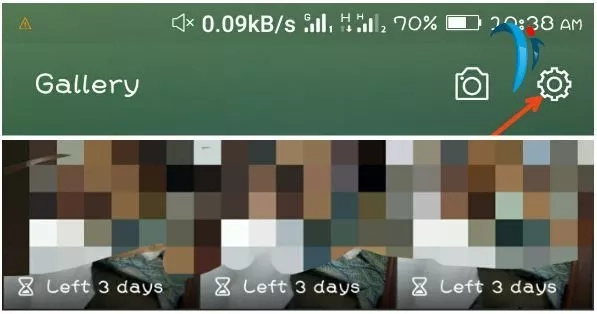 Did you know you can restore gallery photos accidentally deleted from your phone? Here is how to recover deleted photos from your phone gallery.
Those photos you deleted are not totally lost, you can still recover them within a period not longer than 7days from the day of deletion.
My android phone sends deleted photos from the gallery to the trash can, where you can recover it at a later date.
Yours can do it too, though it may vary, depending on the model of phone that you are using.
Though after 7days, the photos may be permanently deleted from your phone.
You do not need any android application to get this working.
Please note that the step I'm about sharing with you works only on images deleted from the gallery, if you went through your phone file manager to delete a phone, I'm sorry, but you may not use this tips to recover such photos.
This tip works with photos deleted within the phone gallery.
There is a folder in Android smartphones gallery called "Trash" this folder carries all deleted photos from the gallery for 7 days, after which; the photo will be deleted permanently.
You can manually delete it if you do want it to be in the trash can for the stipulated number of days.
The reason it is kept there is so that in case you wish to bring back a photo that was already deleted from your phone gallery, you can easily do it through this steps.
You may have to be very decisive in this case as there is no special setting to set how long you want the deleted photos to stay in the trash can.
So be cautious about this even while you contemplate on restoring the photos.
This can be located in the settings panel of your phone gallery, any picture deleted from your gallery, is sent to this folder once the delete option from the list of options when you select the photo, but it will be automatically and permanently deleted from the trash can after 7 days, mind you.
In that setting is where you can set your phone to auto-rotate picture if the phone handling position is switched.
That's is not the topic for today, let's leave that for another day.
So to recover deleted photos from your phone gallery, locate the setting panel of your phone gallery and tap on trash and you will see all the deleted photos in the last 7days.
Photos in this trash can will auto delete after 7days so if you don't see the photo you wanted to recover in this trash can, then the photo must have stayed in the trash can for over 7days before you visited.
There are basically 3 steps to recovering deleted photos from your phone gallery
Open your phone gallery
Tab the setting icon in the top right corner of your phone gallery
Tab on "Trash"
Now, select the image you want to recover; then tab and hold the image for a second and you will be given options either to "Recover" the photos back to your gallery or permanently delete it
See screenshots attached here in this post for more explanation
It was a brief one but I hope it helps you to recover deleted photos from your phone gallery.