Wanna know how to reduce data usage on Facebook app? Then this article will share with you some of the settings you should consider changing to the app to make it use minimal data.
If you leave your Facebook setting at its default state, then you may end up allocating all of your data volumes to your Facebook app.
Research shows that an average Facebook user spends at least and an hour daily browsing Facebook app.
How about?
Then you must optimize your Facebook app to make sure it is not using too much data to surf the social media.
Don't be carried away by the fun of scrolling your Facebook newsfeed.
The interesting stories you may likely find on your feed may not let you remember that your Facebook app is consuming too much data.
Getting you addicted to the social network and draining your battery is enough.
It must not add draining data to the package it's got for you.
This post is targeted to people using the Facebook app on an Android phone.
In a later post, we'll share with you some tips to reduce data usage on Facebook app on iPhone so make sure you stay tuned to this blog.
These tips will help reduce data usage in Facebook Android app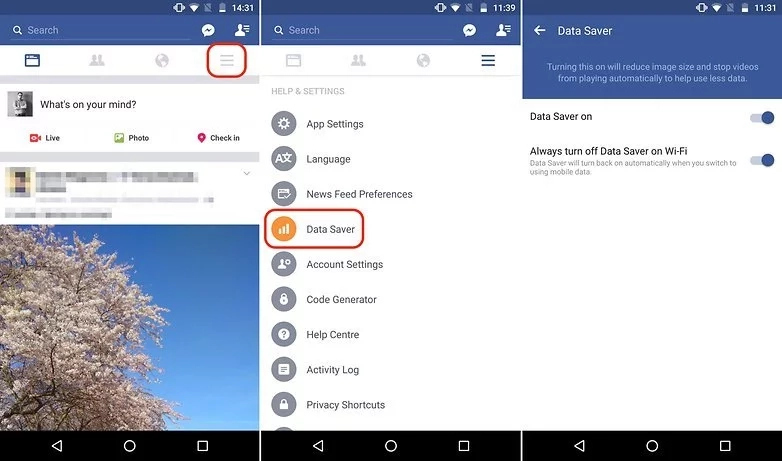 First of all, let me make a list of the points we are going to talk about so you better understand this content.
You can reduce data usage on Facebook app by doing these:
Using Facebook Lite
Adjust Facebook Android app settings
Turn on Data Saver mode
So how do you apply the highlighted points above to reduce data usage in Facebook Android app?
Facebook Lite — Even Facebook themselves knows that Facebook Android app consumes data a lot, that is one of the reasons they launched Facebook Lite app for their users.
If you are unfortunate to find yourself in the part of the world where data connection is pretty slow and unstable, then Facebook lite will be the best option for you.
Facebook lite comes with a lighter weight of the functionalities you would have on the Facebook app Android.
You can download Facebook Lite app from Google play store if you don't have it already installed.
But you can still customize your Facebook Android app to use less data if you are not using Facebook Lite app, but Facebook Android app instead.
That takes us to the next thing to do to save data consumption while surfing Facebook.
Adjust Facebook Android app settings
As fun as it is to use this app to share a lot of videos and photos on Facebook, then this might be what is licking up your data.
Have also noticed that each time you are scrolling your newsfeed with this app any video you get to starts playing automatically?
That video uses data to stream the content for you.
Well, that was the default setting on the Facebook app as at the time of updating this page.
I don't know if they are making plans to consider changing that as a default setting in the future.
But the good news is that you have control over it.
So if you use this app to surf Facebook, here are some of the settings you may consider changing to help reduce your data usage on Facebook.
There are 3 important settings within your Facebook app settings that is eating you up.
Not to worry, I will take you there.
If buttons for "Upload photos in HD" and "Upload videos in HD" are on "Toggle on" position, then you may consider toggling them off.
Photos/videos uploaded in HD consumes more data than the usual upload.
I hope you know what that means to your mobile data?
Another feature that consumes data a lot when you are surfing your newsfeed is the video "Autoplay" feature.
In my own preference, this option is set to never autoplay videos.
And what if I was not interested in the video it automatically started playing? The more reason you need to set this option to never autoplay videos.
Navigate to your app setting sections so you can take care of the things I have mentioned above.
Follow the steps below:
Tap on the 3 horizontal dotted lines at the top right corner of your Facebook mobile app
Scroll to "App settings" and there you have all the aforementioned settings to select or deselect
Also, remember to instruct your app not to autoplay any video while you are scrolling your newsfeed
If you are interested in any video from the thumbnail, you should start watching it at your own discretion.
Turn on Data Saver mode
This may also act as the settings itself.
Remember I shared earlier that they are aware that Facebook consumes data a lot?
That is why they are putting all of these options in place to make sure you have full control of how Facebook uses your data.
The Facebook inbuilt data saver mode will help reduce your image size (no HD) and also disables autoplay.
Follow the same steps we used in adjusting Facebook Android app settings and you will have the data saver mode right there staring at you.
Now you know how to reduce data usage on Facebook app, but before you move to the next post, here is a recap of what you just read.
Follow these steps and you will be glad that I shared this specifically with you.
Meanwhile, here is how to find a draft post on Facebook.