Before you join the recharge and get paid, you must choose the preferred package you want to sign up with.
So in this post, I will share with you all the recharge and get paid packages and their respective benefits.
This is to help you make your decision well.
Knowing the benefits attached to each registration package will help you choose the exact package that best suits you.
You can also upgrade your package at any time you wish.
Should in case you later change your mind to make a change of package.
If you read the comprehensive of how the recharge and get paid works, you must have digested this information.
But this page is categorically sharing all the RAGP packages and their respective benefits so you know.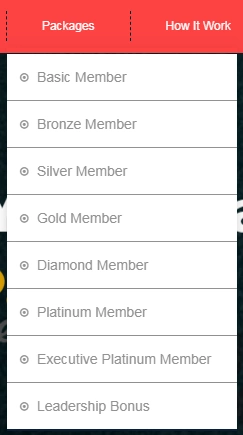 Recharge and get paid packages
There are basically 7 membership packages from which you can choose from.
Each of these packages has its benefits.
Stay glued as I take you into this in detail.
1. Basic Member – As a basic member your registration fee is ₦5,000 and your sign up bonus is ₦1,000 that is 20% of your registration fee.
You will also earn 20PV with the ability to earn up to 5th generation deep.
If you don't know much about PV, read more about recharge and get paid here.
2. Bronze Member – The bronze earns a signup bonus of ₦ 2,000 from a registration fee of ₦ 10,000 and also can earn up to 6th generation deep with 40PV rewarded, too.
3. Silver Member – Immediately after signing up as a silver member, a bonus of ₦4,000 will be credited to your wallet. The registration fee for this package is ₦20,000 and you will earn 80PV and up to 7th generation deep.
4. Gold Member – This membership package attracts a registration fee of ₦30,000 and after successful registration, your wallet will be rewarded with ₦6,000 bonus, 120PV, as well as the ability to earn up to 8th generation deep.
5. Diamond Member – You can earn as much as 9th generation deep as a Diamond Member. The registration fee for the Diamond membership package is ₦40,000 and after sign up, 20% of that which is ₦8,000 will be funded to your wallet. You will also be rewarded with 160PV.
6. Platinum Member – Platinum members sign up with ₦50,000 so if you are an intending platinum member, note that your registration fee will be ₦50,000. The benefits of platinum members are ₦10,000 registration bonus, 200PV as well as earning up to 10th generation deep.
7. Executive Platinum Member – This registration package is pretty similar to the platinum member, but there are some variations.
The only similarity is that both the platinum member and the executive platinum members all earn up to 10th generation deep.
But the registration fee, bonus and the PV rewarded after registration varies.
For the executive platinum package, you will be rewarded with ₦20,000 registration bonus and a PV of 200.
The registration fee for the executive platinum package is ₦100,000.
Now you know everything you needed to know about the recharge and get paid registration packages.
There is no point of waiting, choose a registration package that suits you and use this referral ID and sign up NOW!
If there is any part of this post that you don't understand, I will be glad to explain further to be sure you understand.
Leave a comment and I will respond as soon as possible.
Tags: how to register on recharge and get paid, recharge and get paid app, recharge and get paid ewallet, recharge and get paid how it works, recharge and get paid login, recharge and get paid nairaland, recharge and get paid registration form, recharge and get paid review