If you have been hearing about Payoneer and thinking about signing up, I have come your way today with a comprehensive Payoneer account sign up guide.
So if you did not know how to go about the sign up process, this post will walk you through all of the steps and requirements for a successful Payoneer account sign up and activation.
I think as an online entrepreneur, you need to sign up for a Payoneer account, as they are known for online payments.
If you are a blogger, an affiliate marketer or a freelancer, you need a Payoneer account to cash out.
As it is often said that making money is important but cashing out is importanter 😆
Is there any English like that? If there is none; I just created one.
So what I'm a trying to say?
Signing up for a Payoneer account will help you cash out your earning from some marketplaces your must of signed up.
Once you get the funds deposited into your Payoneer account, you can decide to either to sell the funds to another Payoneer account user and get the equivalent or use your ATM card to make withdrawals from your local bank.
Singing up for a Payoneer account is quick and easy.
I mean, you don't need any technical ideas to get it done.
You can get it done within minutes.
But before you get started, there are a few things to put in place before you hit the sign up button.
Requirements for a Payoneer account
Should you consider your name as one of the requirements for signing up for a Payoneer account?
Well, I don't know how you intend to identify your Payoneer account without a name.
The only important Payoneer account sign up requirement I want to state here is a valid mean of identification.
If you don't have a valid means of Identifying yourself, your Payoneer account may be restricted from performing some transactions.
So to make sure that you enjoy your Payoneer account to the fullest, you must make sure that you have a valid means of identification.
This is usually a government-issued ID.
It can be an international passport, drivers' license or any other government-issued ID card.
This is the only requirement I consider extremely important and needs to be talked about here.
All other requirements are basic requirements and data.
This is how I signed up for my Payoneer account and ever since then, I have not had any issue with my Payoneer account.
I will soon publish an honest Payoneer review from my personal experience.
Now that you know these things, let's sign up for a Payoneer account.
Sing up for Payoneer account and earn $25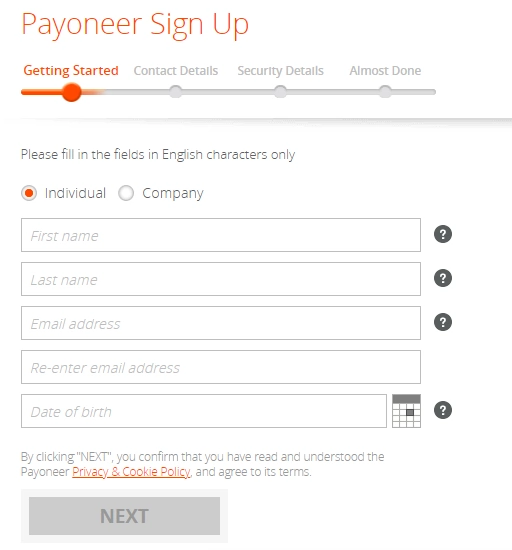 Remember I told you signing up for a Payoneer account is not technical?
Even with your mobile phone, you can get it done.
The good side of the story is that you even earn as much as $25 for just signing up.
So what are you waiting for?
Click here to sign up for Payoneer account now and earn $25.
Fill the fields as required and hit on the "Next" button until you complete the form.
Ask questions where you need to in case of hitches.
…talk soon