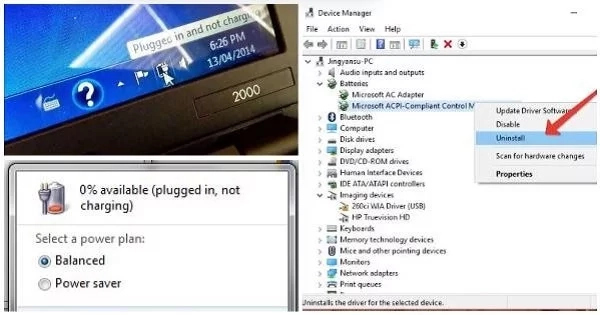 If your laptop is plugged in but not charging and you are wondering how to fix it, here is a quick tip for you.
Here at techinformat.COM, we share tutorials to guide people to fix minor issues themselves, no need to call a technician at every minor issue you have with your laptop so DIY.
We found a lasting solution to this problem and feel we should share it here with others who may be experiencing this same issue.
So wander no more as you have landed on the right webpage to get that fixed!
Laptop "Plugged in, not charging" is one of the common powers problems among windows users.
It only gets to your notice when your laptop shuts down while you were still using it, even with the adapter plugged in.
That's when you know that your laptop was just plugged in, not charging.
Now you know that your laptop is having this issues it's time to fix it so you'll always stay in power.
Irrespective of the windows that your laptop is running on, this tip will help get the issue fixed.
There is basically 4 reason why you are having this issue with the charging system of your laptop.
Laptop "Plugged in but not charging" causes
The first thing that should come to mind is the laptop battery.
It is likely the laptop battery needs a replacement, though it may not be the battery, but caused by other things.
Windows
Power Adapter (Charger)
Battery Problem
Laptop's Internal Motherboard
Most times, unplugging the adapter and plugging it back fixes this problem.
Don't be too fast to buy a laptop battery or an adapter when you notice this problem, you might want to take your time to troubleshoot the laptop to know the actual cause of the problem.
Try to unplug the adapter and plug it back, if that doesn't work, change the socket outlet, if it's an extension socket; change the port. If it still doesn't work, then let's troubleshoot the more.