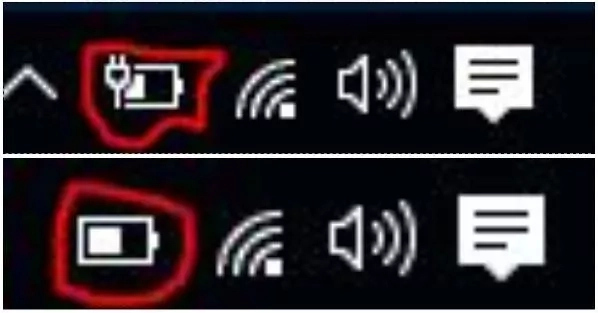 If your laptop is still showing the charging icon in the battery indicator when the laptop is unplugged, here is a quick fix for you brought to you by howtosguider.com
Your laptop thinks it's charging – How on earth could a laptop not plugged in but charging?
It sounds mysterious, right?
But this one the most common power related issues often faced by laptop user.
I have found the solution to that problem so you can get it fixed now.
Note: when this error occurs, you will not know the actual percentage of your laptop battery, so you might want to find a solution to the problem so you know how much leftover percentage of your laptop battery you have left.
Laptop is unplugged still shows charging [HOW I FIXED IT]
From my personal experience, you might be stuck somewhere and therefore causing this problem.
I was using my laptop as usual, after an all-day work with my laptop charging while in use, I hibernated the laptop instead of shutting down at the close of work.
I have some unfinished work on the computer that I would need to continue later, so the only option was for me to hibernate the laptop so I can still have access to my unsaved files.
To my greatest surprise, why I resumed the laptop, I noticed that my battery icon was showing a charging icon in the battery indicator as though the laptop was plugged in.
I could not manage the remaining percentage effectively as I could not know the actual percentage of my lappy battery.

Since I suspected that there was I hitch somewhere in my BIOS, all I did was to restart my laptop and the problem was gone.
Another possible solution is to plug in the charger and unplugging it again to see if the charging indicator will disappear after this.
Another tip is that you might want to remove the battery and fix it back.
Restarting the laptop worked for my windows 10, 64 bit operating. I think this step will also work for you if there is no hitch in your computer BIOS.
After following the steps I have outlined here, here is the result I got.

If that does not work for you, you might want to check other 2 tips about "charger unplugged but still charging problem"
I would be glad to shed more light in the comment section, should in case the step that worked for me does not work for you.
Is your laptop charging symbol still showing after following these steps? Share your question or contribution in the comment section.