Does it mean that I don't care about iPhone users that I have not also shared internet speed on status bar for iPhone users after sharing how to show internet speed on status bar without any app for Android users?
If you are an iOS user searching for internet speed on status bar iPhone, in this post; I will show you how you can use speed meter for iPhone to display network speed on your iPhone status bar.
Just like I said when I shared the internet speed on status bar for Android users, internet speed on iPhone status bar helps you monitor the consumption and speed of your connection.
Maybe if you hotspot was on and open, someone can hook up to it and start using your data to download heavy files, then you will start seeing the internet speed on your status bar increasing the size of data it is using per second to browse.
Well, that will only be your concern if you are using an iPhone in a location where the data connection is metered.
If you are using an unmetered connection, apart from your iPhone battery, I don't think this should really bother you.
If you are iPhone user looking for how to show internet speed on your device status bar, there is no point jailbreak the device whatsoever a simple installation an app from the iTunes app store will have the internet speed displayed on your device status bar.
Go to iTunes app store and search for "N stats" and install it.
It offers other services apart from network speed on your phone status bar, there are other widgets which you can use this app to add to your iPhone.
Once you have this N Stats widget monitor installed, you can have free disk space, free memory and network speed (your favorite widget)
You can get N Stats From iTunes here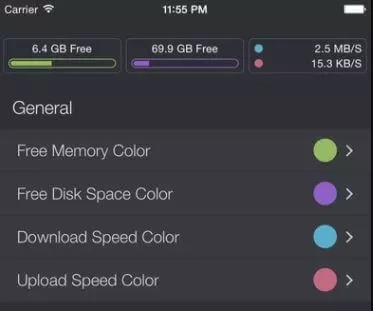 Now you know how you can display internet speed on the status bar of your iPhone device. If you have any question or contribution please be kind enough to leave it in the comment.