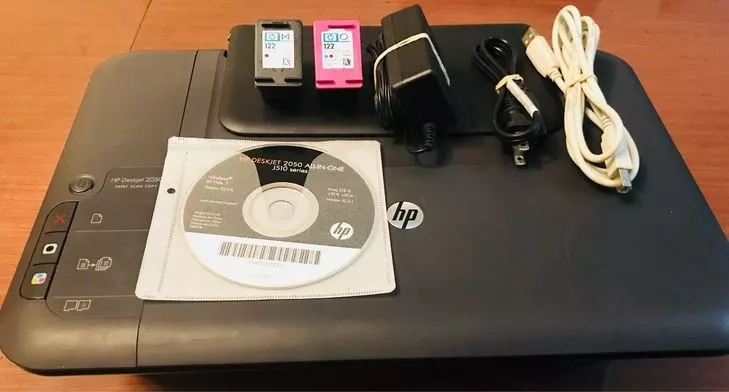 Hp Deskjet 2050 printer is one of the 3 in 1 hp printers that I have used, so I'm a bit conversant about how it works.
I led some hp desk jet 1050 users to where they can download their printer driver in case they lost their CD 💿 copy of the driver.
Here, I'm about leading 2050 users to where they can download their printer (Hp Deskjet 2050) driver too.
With this, you will install hp Deskjet 2050 printer without CD
Meanwhile, if you misplaced or lost your driver that came with your printer at the point of purchase, you can come to my house and carry my own 😆
No worries about my address, just start coming right away; what are friends for?
Of course, you know that without the printer driver software properly installed on your computer, you may not be able to maximize the full functionality of this printer.
You must be sure that your printer model is hp Deskjet 2050 all in one j510 series printer.
The design may look pretty much alike but differs in product model.
You might want to check these things to make sure that you download the right driver software for your printer.
Interestingly, this driver software works on Windows and Mac OS respectively, so not to worry about the operating system that you are using.
When this printer was released, Windows 8 and 10 was not popular among Windows users, so if you upgraded your computer to a higher version than the Windows XP, Vista, and Windows 7 that was labeled on the diver software installation CD.
Not to worry, I have installed it in my windows 10 64 bit operating system and it still works fine.
For Mac user, it was v10.5, v10.6 and version 12.2.1 that the driver was built for.
I have not tested this printer driver software with a higher version of a Mac PC, but I'm pretty sure it will work.
If you are Mac user on a higher operating system than the ones listed above can you be kind enough to share your review on that?
Okay, let me share the download link with you.
You can get this driver downloaded from hp website, but there a variety of drivers for various products there which may make it tough for you to find the right driver for your hp Deskjet 2050 printer.
That is why I'm presenting you this direct download link to download hp Deskjet 2050 all in one j510 series printer.
Here is how and where to download hp Deskjet 2050 printer driver software
Visit official hp support/product page https://support.hp.com/us-en/product/hp-Deskjet-2050-all-in-one-printer-series-j510/4027463/drivers
On getting to that web page, click on "GO" and your computer and it's operating system will be automatically scanned by HP and you will be presented with a direct download link to the printer driver software that will fit your computer.
Just click on the download button and wait while the driver is downloaded into your PC.
After successful download, locate the file in your computer directory and install it in your computer and start using. it.
Now you can print, scan and photocopy with your printer.