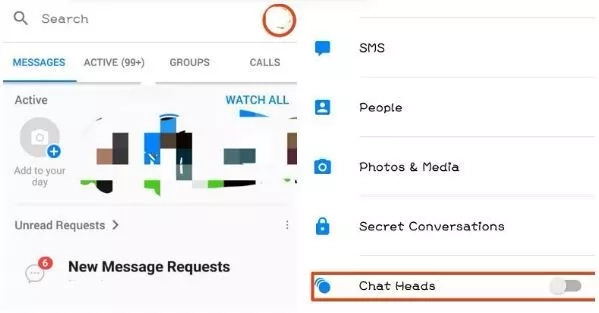 How do you turn off messenger chat heads? I will show you how to turn off chat heads on Facebook messenger android app to completely disable chat heads.
You know how embarrassing it can be when a chat from someone you never wanted to hear from; pops into your phone screen.
Imagine you with your partner discussing an important issue and a message from a side chick or nigga pops up.
Messenger chat heads caught attention very fast.
In cases of most partners, they may need to tab the chat head so they can see the conversation.
Guess what? If you conversed something inappropriate, your messenger chat head might get you into a very big mess.
Some years back, Facebook introduced Facebook messenger android app with the function of chat head or floating heads which gives the user a direct access to the contact that they are chatting with.
This will pop each time you have a message from that Facebook friend with his or her picture inside the bubble.
The interesting part of this Facebook messenger heads is that it pops up when you have a new message, irrespective of what you were doing with your mobile phone.
When clicked on, it will take you to the new message you just received and the conversation you had with that contact previously.
That is an interesting feature, but to some user it's annoying and it may distract users from what they were doing with their mobile phone.
If you were not in the mode for chatting at that particular time, you can imagine how frustrating that could be.
But not to worry, the Facebook messenger has its users in mine and they have control over most of these features so that if you don't want it at a particular time, you can easily control it by turning it off easily.
Since Messenger has a function that allows us to answer a chat from our phone status bar, chat heads have become unnecessary and annoying.
If you want to know how to disable Facebook messenger chat head, it is a simple thing you can do in a couple of steps within 10 seconds:
Disclaimer: I am not discouraging Facebook messenger users to stop using chat heads, I'm writing this should in case you don't prefer the message to pop when you are on other things on your phone.
How to turn off chat heads on Facebook messenger android app
To get this done, you must have the Facebook Messenger app installed on your android phone.
Open Facebook messenger app installed on your phone
Tab on your profile at the top right corner of the application
Then turn off the chat heads using the toggle button
It's a toggle button, so you can toggle it off or on.
If your Facebook messenger chat heads have not been working, you can follow this steps and on getting the third step, you toggle it on.
You can also apply these steps in a friend's messenger app who also has been complaining about this Facebook messenger chat head.
It is as easy as that.