Do you know you can stop Facebook from suggesting you to people you may likely not know?
If you are a celebrity like me, you may like to receive a friend request from just anybody 😆 😆 😆
After getting a lot of friend requests from strangers, I had to go in search of ways to prevent Facebook from suggesting me to people.
What if you created a new Facebook account you would like to use as a private account and all Facebook does is to keep suggesting you to others?
That is not a private account, then and it could be so annoying 🙁 .
A friend of mine who just joined politics called me to ask if there is a way to turn off suggested friends on Facebook that he doesn't like how friend requests troops in every now and then.
Well, maybe I will refer him to this post.
So if you have ever been in such situation where you don't want yourself to be suggested to others, I will share with you here how to not show up in suggested friends on Facebook to total strangers.
Until you read through the lines of this post to stop Facebook from suggesting you to others, you will continue being suggested to others under their "People you may know" tab until you prevent them from doing so.
Before now, I have been searching the internet how to get myself out of these suggestions to other people on Facebook.
But as at the time of updating this post, there was no control over this feature that can help you completely remove yourself from the "People you may know" list on Facebook.
Not to worry, I've got some good news for you.
This is how to control is to some extent – Though not completely, but I'm sure this will help.
At least you can limit who gets to see you as a suggested friend.
As this has to do with your privacy, you will find this in the privacy settings section in your Facebook account.
Any privacy-related settings that are possible on Facebook can be controlled in that section.
Here is what to do to stop Facebook from suggesting you to JUST anybody
As stated earlier, there is no way you can stop Facebook from suggesting you to other people on Facebook completely, but you can limit who you get suggested to.
Maybe in the future, they will come up with a total control over this privacy issue, who knows?
But before then, you will need to find your way around this.
Here is what to do.
— Log in to your Facebook account and navigate to the settings section
— Under settings, tap on the "Privacy" on the left
— Now,  under "How People Find and Contact You" change "Who can send you friend requests?" to "Friends of Friend"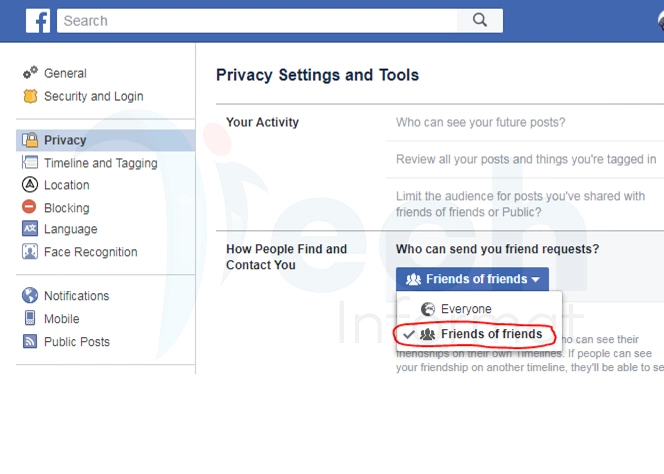 By default, you will have this option selected as "Everyone".
Once you select any of the options, you will have the option saved automatically, so will not need to start looking for a "Save" button to save the options when you are done selecting any one of your choices.
By selecting the "Friends of Friend" options, only friends of people who are already on your friend list will be able to send you a friend request.
Note: some people will still be able to find you on Facebook. They will still see your photo and name as a suggested friend especially if you have a large Facebook friend list.
But follow the steps I highlighted above, you will not be suggested as a possible Facebook friend to total strangers anymore.
Hope that helps!