So you don't get this twisted, this post, "How to save a Facebook post and find it" is different from finding a draft post on a Facebook mobile app.
Just in case that was what you wanted.
While you are busy, you may decide to dash into your Facebook news feed, only to find an interesting story which you may like to engage with, but you've got no time in your hands.
If you leave the post without taking action, you may miss that update because Facebook may not show that post in your newsfeed again.
It gets worse when if you cannot recall the name of the person who made that interesting post.
How about saving the post and coming back at your leisure to digest it as much as you want?
That is exactly what I'm about sharing with you today — How to save a Facebook post and find it.
It is one thing to save a Facebook post, it's another thing to find the saved post when you want to recover it.
A lot of users easily save it but are not able to recover it. Not to worry, this post will cover that and show you how to go about the entire process.
Note: any Facebook post you save from your news feed will be added to your saved items.
Saving Facebook posts is one of Facebook new features that I have been using for a while now.
This feature is really becoming handy because I can't tell you how many times I've seen a post on Facebook and not
be able to engage with a video or check whatever out right then.
Before now, I have always wanted to save Facebook posts but I really had no way to do that and now, with the recent Facebook update, there is a way you can save a Facebook post.
Guess what? Saving a Facebook post is now really easy and simple to do.
I'm going to show you how to do that and then where to find your saved posts so you can check it out later at your convenience or anytime you wish.
You will not know how to save a Facebook post and find it until you read through this post.
So seat tight let me show you the real deal.
How to save a Facebook post and find it
So here is what you do to save a post if you come across a Facebook post that you like and you want to save and look at it later.
— Scroll to any of the posts you would like to save and click the horizontal dotted line then you just come down to where you have "Save post" to save the post.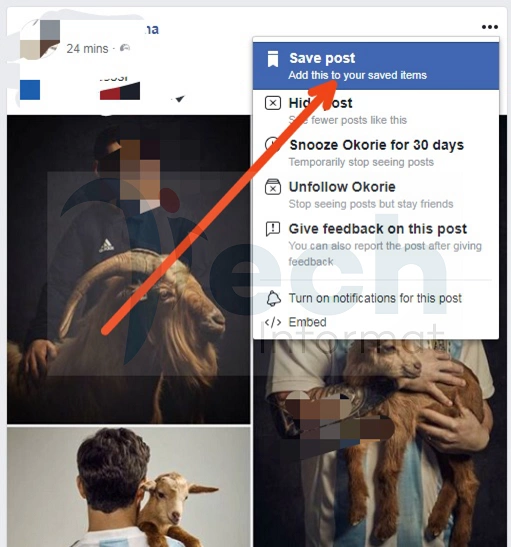 Now, you have the post saved to your saved items list, there is when you can find it.
In the current version of Facebook, when an item is saved, there will be a link above the feed of the person you just saved his or her post to where you can retrieve the saved post on Facebook.
So you don't have to wander in search of the items that you have saved from your Facebook news feed.
Now, to find your saved posts, you can go to https://www.facebook.com/saved/
Just click to open the address above on your web browser or copy it and paste into your browser address bar, there you will find all the posts that you have saved, even before now.
Everything you've ever saved from your news feed will be found here and there is no limit to what you can save into this list.
You can save videos, ordinary updates, links and whatever you can think of saving from your Facebook newsfeed.
Now you know how to save a Facebook post and find it. Go ahead and save the items you want and find them later when you want them.
…easy to do to do, right? I said it!