If you are surfing Instagram on your laptop and wish to know how to message on Instagram on laptop, this post has got you covered.
In this post, I will show you comprehensively how you can message on Instagram on laptop.
So you will get to know much about Instagram dm on pc.
From the inception of Instagram, images and videos have been incorporating new actions that users have found fun in them.
Some of them are the facial filters, Instagram stories and the subsequent possibility of archiving them, the superzoom, the polls, follow hashtag or direct messages (DM) and so on.
You will agree with me that the Instagram social network is intended for use from the mobile phone but it is also possible to use the application from your computer/laptop using Instagram from the PC.
As comfortable as it could be surfing Instagram on a bigger screen, it is also true that the functionality of using Instagram from the PC is limited.
There are some actions you cannot take while you are using Instagram from your PC.
One of them is sending a direct message (DM).
The direct message feature on Instagram is another way to converse with family and friends in a more secure way.
This is another instant messaging app that helps share information to friends and family in no time.
It also has the possibility of creating conversation groups with several participants.
Most of these things can only be done through the use of your mobile phone.
But what if currently, you are using your laptop to surf Instagram?
You might have lost your mobile phone after signing up for Instagram, you can use your laptop to surf the platform without any form of limitation.
It is to this end that we are bringing you this tutorial on how to message on Instagram on laptop.
How to message on Instagram on laptop
It's a step by step and easy to understand guide so not to worry about anything.
It will be explained in detail.
If there is anything you don't understand in the process, you can leave a comment and we will explain further.
Option 1
Message on Instagram on Laptop via IG: dm
IG: dm is one of the best options to send direct messages on Instagram on laptop.
IG: DM allows the functions listed below:
We can use it in Windows, macOS or Linux without distinction.
Allows you to search, follow or stop following users within Instagram's social network.
We can quote messages in chats and send DM to users from the PC.
It is possible to see the users who do not follow us.
So to start messaging on Instagram on Laptop, follow the steps below:
Visit the IG:dm official website
Choose the OS that is running on your laptop
Once the specified software is installed on your laptop
Use the software to log in to your Instagram account
Now you will have the functionality to send a direct message from your PC.
Remember we told you the Instagram for PC has a lot of functionalities except the "Send message" option.
Now with the use of IG:dm, you can send a dm to anyone you want with the Instagram platform.
Here are some of the screens to better guide you how the IG:dm for sending Instagram dm works.
Page to search Instagram users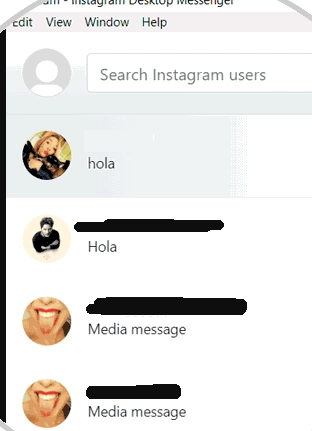 If you click on any chat, you will be able to read the previous conversation, see the images sent and send new messages to that contact by typing them in the bottom bar and clicking on the "Enter" button.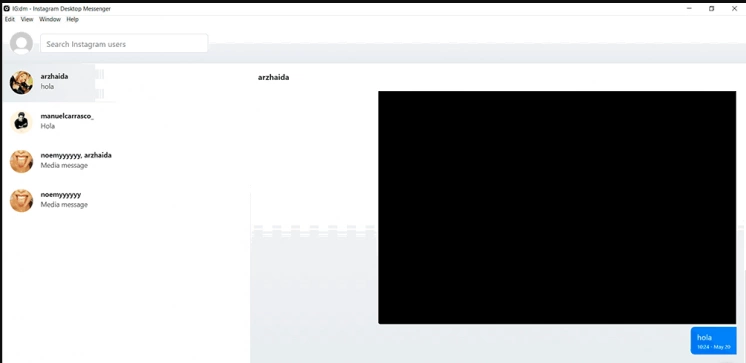 If you are done, click on the profile icon, a window will appear where 4 different options will appear:
Don't send "Seen" receipts
Disable notifications
Users not following back
Log out
By clicking on each of these options you will be able to access all these other options offered by this desktop tool.
This is just one of the ways to message on Instagram on laptop.
How to message on Instagram on laptop via Bluestack
Bluestack is one of the best Android emulators out there and it works perfectly with IG PC messaging.
To be able to use this option, you will need to have an APK version of your Instagram app.
You can export the Instagram app on your mobile phone to the APK format.
Once you have the .APK of your Instagram app, then you can proceed with the steps below:
Visit the official website of Bluestack
Hit the download button
Once the download is completed
Import the .apk version of your Instagram app into your Bluestack to read it
Now sign in with your Instagram details
It is that quick and easy.
Now you will be able to send and receive Instagram messages straight from your laptop or PC.
From the 2 methods to message on Instagram on laptop, I consider the first option to be the fastest and the easiest to get done.
Which of these methods did you use to message on Instagram on laptop?
Or do you have any other method for messaging on Instagram on laptop?
Please be kind enough to share with us.
If you have any question or contribution to this effect, please do not fail to leave it in the comment and we will acknowledge it.