If you have been searching for tutorials on how to fix windows 7 not genuine black screen, you have finally landed on the right one.
This tutorial page aims at walking you through the steps to solving windows 7 not genuine error.
Fixing the error "This copy of Windows is not original" might be a bit tedious, if you installed a pirated Windows operating system, it is likely that after a few months you will receive this error and your wallpaper disappears and your screen will go black.
This guide works for the 32-bit and 64-bit versions of Windows 7.
Should in case you want fix windows not genuine for Windows XP or Windows 10, you might want to stay connected to my future updates which will cover that in detail.
Solution on how to fix windows 10 not genuine error message
You will need to follow these three steps to solve the error.
After the second step, the problem will be gone, however, you must also meet the third. In any other way, the error will again rise.
Step 1: Uninstall the KB971033 Update
The error "This copy of Windows is not original" occurs because Windows detected updated files in the operating system.
Then, before proceeding with the real solution, you should uninstall the update that your Windows localized. If this update does not exist, then you can skip this step.
Step 2: SLMGR -REARM Command
Start button on the taskbar
Search for "cmd" in the search field.
Right-click on "cmd" and select "Run as administrator".
Type SLMGR -REARM (SLMGR is a tool that controls the Windows license. REARM is a command that restarts the license state on the machine.) And press Enter.
Wait, you will see a window, press OK.
Now just restart the PC. You will never receive the message "windows is not genuine" again if this command did not work then try SLMGR / REARM.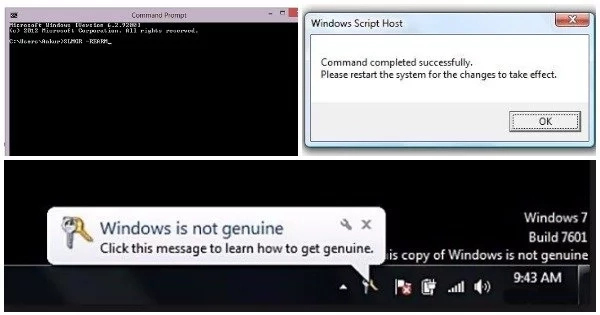 Step 3: Turn off automatic updates
You are not using a copy of the original Windows, so you have to turn off automatic updates. Otherwise, the error will eventually return.
If after following these steps the screen remains black, simply change the wallpaper in the system properties.