Here is another guide to help you find out where a website is hosted.
You will not only find out who is hosting any website, but you will also find out other hosting related information about any website.
You get to find out the server IP, Nameserver, location and other important information about that website.
I don't know why you want to find out the hosting provider of that website, but for whatever reason, I will share with you a guide on how to find out where a website is hosted.
I just hope your intentions are genuine, anyway.
One of the thoughts that may prompt you to search for the web host that is hosting that your favorite website is when you want to create your own website.
There are times where you want to start a website but get totally confused choosing a web host, the only option is to check who is hosting your favorite website and also have them host yours, too.
Of course, that is why I'm sharing with you this post.
So after reading this post, you will be able to find the web host of any website, regardless of the domain name or Whatsoever.
So let's get into the business of the day — Finding where a website is hosted
I don't intend to get you bored with stories so let's get started.
Check any website host
There are tools out there that will help you find it out within minutes and not writing a single line of code.
You don't need any hacking knowledge to get this done. It's legal and it's FREE!
The first step to finding this out is to know the address of the website that you want to check.
You must have the domain name handy.
In the course of this post, I will be taking you through 2 websites where I use quite often to check the web host of any website.
They are Whoishostingthis.com and Hostingchecker.com
So here is how to check where a website is hosted using whoishostingthis.com
As said earlier, you must have the domain handy.
With the domain handy, head over to whoishostingthis.com
Paste or type in the domain name you want to check in the search field
Now hit the search button to get the search process started.
Wait for a while for the system to look up the hosting information
There you have it!
The domain hosting information will be shown to you.
Apart from the first step, the same steps apply to check the hosting of a website using Hostingchecker.com
Below is the example of hostingchecker.com reporting the web hosting provider for Facebook.com.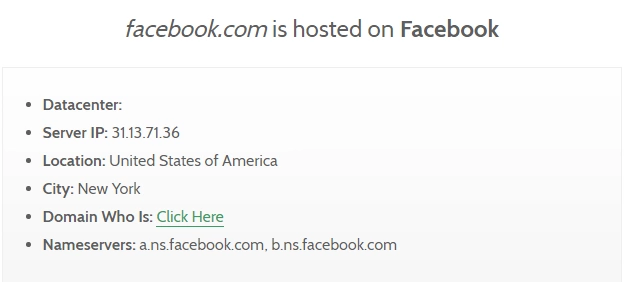 From the report, you can see that Facebook.com is hosted by Facebook.
Most big websites are the hosting providers for themselves.
Now you know how to find out where a website is hosted.
Now you can check unlimited websites to know their web hosting providers.
Do you know any other tool or method to check where a website is hosted? Be kind enough to share.