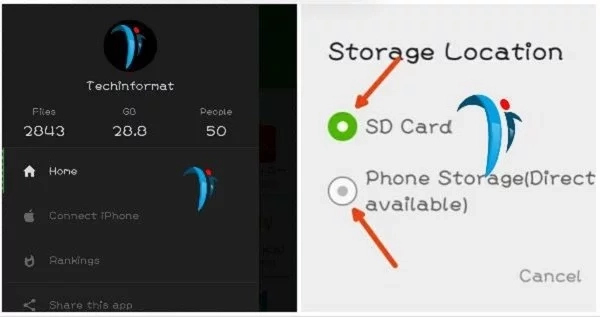 If you want to chance Xender storage location within the app, come, let me show you how to get it done.
I shared an article some time ago about where files received from Xender goes, some time ago, then I realized that there may be some Xender users who may want to change the storage location in the app.
Your preferred Xender files storage location depends on where you have the free storage to be holding your files for you.
So if you have free storage in your phone memory, you can change the storage location from your SD card to your phone memory and vise versa.
Changing Xender storage location is quite easy.
You don't even need any tech-savvy to help you change it. DIY!
Before you learn how to change Xender storage location to sd card from phone memory or to phone memory from sd card, here is how to send files to PC via Xender.
As any other android application would have, Xender has a setting panel where you set your preferred options.
If there are features you would like to use that are not enabled in the app, you can enable them and start enjoying the features.
Setting the preferred storage location in Xender is located in the setting panel of the app.
I would really recommend mounting an SD card in your phone, to free up the phone memory (internal memory), even if your phone has a large internal memory capacity.
If you have been using your phone without an SD card, here is how to move already installed app from phone memory to SD card.
Though the majority of users searching for this information wants to change Xender storage location to sd card because it's only a few phones has large internal storage capacity.
Even if you want to do the other way round, this guide will walk you through it.
Here is a step by step guide to change your Xender storage location to sd card or to phone memory
Open your Xender app
Tap on the menu on the top left corner of the app

Now tap on settings

Tap on "Storage location"

You can now change the storage location to your preferred location
That's all, now all files received via Xender will be stored in your directory/Xender/the file type.
For example, if your preferred storage location is SD card and you are receiving an audio file via Xender, the file should be located at /sdcard/Xender/audio there you will find the audio file you just received.