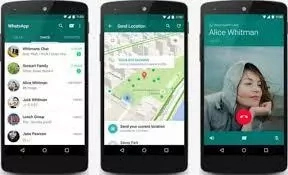 Have you ever thought of making group video or voice call on Whatsapp?
The video and voice call feature for WhatsApp Android beta has been released. At least that has raised your hope to some point.
Or do you think this feature must have been introduced to WhatsApp Android app before now?
Well, let's just be happy that the feature in on it's way to giving us a more useful feature in our WhatsApp Android app.
So how do you make a group video call on Whatsapp or even a voice call on your WhatsApp Android app? stay tuned as you will discover that in this article.
This feature can only be accessed in latest version v2.18.189 or v2.18.192 of WhatsApp Android app so if you are using a WhatsApp version that is older than the ones stated above, you are likely not to be able to test this new WhatsApp feature.
This information comes just after the fact that the Android Beta and IOS user get the group calling feature.
Apart from this, it has been said that in the Windows Phone, the group voice and video call feature has knocked.
However, the feature has not been officially released, but we hope that Whatsapp with the rights of Facebook can get new updates in the weeks to come.
As we mentioned earlier, the video/voice Group Call feature can now be accessed in the WhatsApp Apps Beta both through the above-mentioned versions.
Now with all of these versions, all users will get the benefit of new features. As soon as the call is connected, the person's icon will appear on the right.
After this, the user will start to appear, then both names will start appearing differently. To use the feature, users can register on the Google Play Whatsapp beta program.
Or beta versions of the apk mirror can also be downloaded. On one side, where the iPhone user caller can add and receive for group calls.
It was not possible to add another user during our testing. However, last month there was a report about its slow rollout, in which server-side updates were said.
Whatsapp Beta Tracker has a tweet with many screenshots. WabetInfo believes that the group and video calls have also been released for the Windows Phone.
About the feature, it has been said that some people have got it and some people will get it soon. At the same time, WhatsApp is the only such messaging app, in which major features of the upgrade are continuously coming. The group calling feature in Whatatsapp was announced in the F8 Developer Conference in May this year.
How about this new feature?
Do you think this will be one of the coolest features that WhatsApp has ever had?
Please share your thoughts.