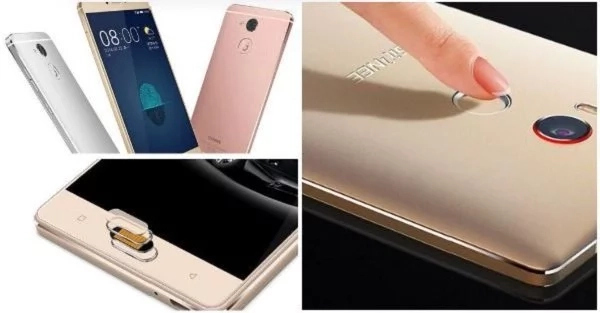 Today I want to make a list of Gionee phones with fingerprints, after making a list of phones with fingerprints to buy.
Today is specifically dedicated to Gionee phones with fingerprints.
So if you have a special preference for Gionee phones with fingerprints, you might want to take a sip of coffee while I take you through this list.
Apart from Gionee phones, there are other android phones with a fingerprint scanner which you can choose from and buy your most preferred choice.
Ever since I started my smartphone life, it has been with Gionee smartphones, I'm beginning to imagine why this much love for Gionee and how they are going to reward me for my loyalty 😛
I am not trying to promote Gionee phones, but ever since I started this journey with them, I've got no issues.
So I'm glad about that!
From the battery life of this phone manufacturing brand to the hardware of their phones; It's been amazing.
We all know how easy and fun it could be to unlock our phones with our fingerprints in no time.
With fingerprint, you no longer need to draw a pattern to unlock your phone or even key in a password.
Though these lock options are still available on your Android device, users often opt-in for the fingerprint lock.
Because with just a touch of a finger on the sensor, the phone will be unlocked.
To me, locking your phone with your fingerprint is secure, compared to other available lock options.
Now, no one can peep on your phone screen when you want to unlock it to get your password.
If another party must use your phone, then he or she must be granted permission by you (the phone owner) or cut off your finger to serve as a fingerprint (only if that will work)
But if you are a cheater with n*ughty chats in some of your instant messaging apps, the fingerprint phone lock option may not be a perfect option for you.
While sleeping, your spouse may use your finger to unlock your phone 😆
Of course, you know what that means when you wake.
To prevent that, you might want to put your fingers in your mouth while you sleep 😆 😆 😆 😆
Enough of the stories, let's get into the business of the day.
List of latest Gionee phones with fingerprint
Gionee M5 Plus
Gionee M6
Gionee A1 Lite
Gionee S11S
Gionee S11
Gionee S11 lite
Gionee M7 Plus
Gionee M7 Power
Gionee M7
Gionee X1s
Gionee X1
Gionee A1 Lite
Gionee S10
Gionee S10B
Gionee S10C
Gionee M6s Plus
Gionee A1 Plus
Gionee A1
Gionee M2017
Gionee S9
Gionee S6s
Gionee M6 Plus
Gionee S6 Pro
Gionee W909
Gionee S8
Gionee Marathon M5 enjoy
Gionee Marathon M5 Plus
Gionee Elife E8
Do you know of any other Gionee phone that has a fingerprint sensor that could not make it to the list above?
Maybe erroneously or by omission.
Could you be kind enough to share it with us?
In one of the tutorials that will be published later on in the future, I will walk users through how to set up a fingerprint on their android phones.
Make sure you don't miss it!
…talk soon.