If you own a blog similar to this blog, you will likely want a trusted affiliate program to join.
Just to make sure you monetize your traffic.
Here is a complete registration guide on how to register as an affiliate on gearbest.com and become gearbest associate.
Irrespective of your location, you can join gearbest affiliate program and make some commissions off the products you promote.
Like when I listed phones with led notification lights, most of my blog users asked for a trusted online store where they can buy the mentioned phones.
That's basically what I do, I do not have these phones, so I refer them to where they can get these phones through my affiliate/referral link.
In return, a commission from the transaction will be credited to my account if they end up buying the phone.
At least that token is for the free information I fed you with.
So if you own a blog like this, talking about some gadgets, it's good you sign up for gearbest affiliate program so you can refer your blog readers who will likely want to buy a product you mentioned.
Your blog may not necessarily be like mine for you to sign up.
Any blog you own that talks about some products, if you know the products are sold on gearbest.com, you can sign up and get your associate ID, and send your blog readers there through your associate ID.
If you have ever thought of online shopping, then you should think gearbest.
Gearbest is an online shopping mall, just like Amazon; if that's the one that you are conversant with.
It has different categories of goods to choose from and promote, I'm sure one of the categories or even the subcategories will relate to your blogging niche.
If you are into gaming, they have a whole lot of gaming equipment that you can promote.
Enough of the praises!
I did not come to sing their praises, after all, they did not sponsor this post.
Let me walk you through all the steps involved in applying to join gear best associate program.
I just got my application approved!
Let me also share with other intending associates the tips on how to register and get it approved within a few business days.
One of the requirements for applying for gearbest associate program is that you must have a blog.
If you don't have a blog, contact me, and I will help you create one for you if you don't know your way around it.
I'm not sure if there are options for intending associates without a blog, but I was asked for my blog URL, and I supplied it as requested.
I'm sorry to say it, but if you do not have a blog, you may lose these amazing commissions offered by gearbest.
Contact me now and get your blog too.
How to register for gearbest associate program as an affiliate
— Visit https://affiliate.gearbest.com/ to join the program.
In the first step, you will be required to fill in the account information while you complete your basic information in the second step.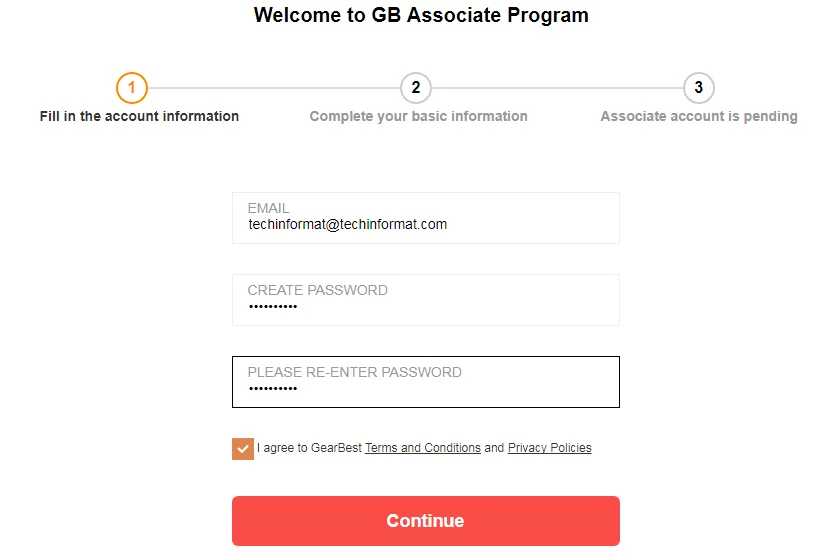 Type in the information as requested, tick the box to agree to gearbest terms and conditions and privacy policies; then click on the orange "Continue" button.
The third step is where you submit your application for review which may take some business days before the account is approved or disapproved.
It's as simple as that!
Once your applications are received, you will receive an email in the email you registered with acknowledging that your application has been received.
You will also be asked to allow 2 business days for your application to be reviewed.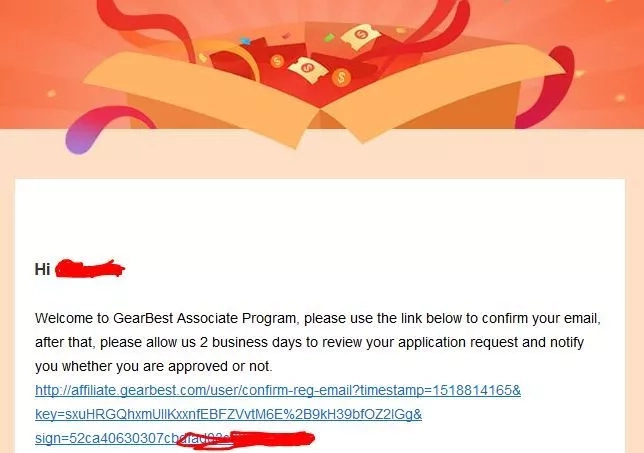 Sometimes, your application may take longer than the 2 business days promised to be reviewed, especially if the application was submitted during weekends.
In my own case, it took more than 2 business days to get a response regarding the state of my request if it was approved or not.
Maybe because I did not submit it during weekdays, but on weekends.
It may be different in your case.
If your application is approved, you will receive an email from gear best notifying you that your account has been activated.
You will also be provided with a link to sign in to your dashboard and start making money from gearbest associate program.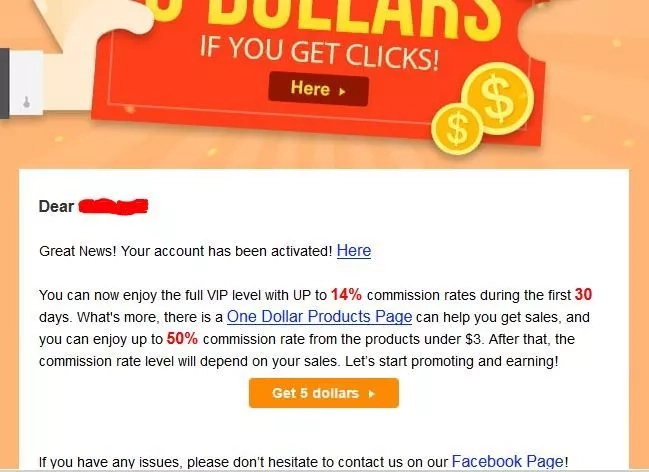 More posts about gearbest associate program will be made, in case you are lost after logging in.
But I don't know if you care about that.
It's always good to hear from you!
…talk soon