After the file was ready, all I needed was a free file host site without registration so I can upload my file and send it across to its destination.
I had no too much time, that was why I wanted a free file host that will not require any registration to upload a file.
So in my cause of searching for free file hosts, I found some which I felt I should also share with you.
The free file-hosts I'm about sharing with you here does not discriminate the type of file that could be uploaded.
Irrespective of the file type or extension, you can use these free host without any registration.
Just drag and drop your file to upload.
Then get the file URL once the upload is completed.
Because these free file hosting services do not require any form of registration, that means you can upload any file anonymously.
Gone are the days where file-sharing was a problem.
You can easily share files among your staffs or co-workers at ease.
With these free file sharing servers, you absolutely don't need to think about using emails to share files.
Considering the file upload limit.
Most of these free file sharing site allows up to 2GB per upload.
I bet not free email provider can provide you with such amount of upload capacity.
Enough of the stories!
Let me go ahead and share with you my list of free/anonymous file sharing sites where you can share your files.
Please note, this list is sorted in no particular order of preference.
They are all free file sharing sites and they perform similar functions.
I will be left for you to choose the one you prefer most from the list and stick to it for your anonymous file sharing needs.
Free file hosts sites without registration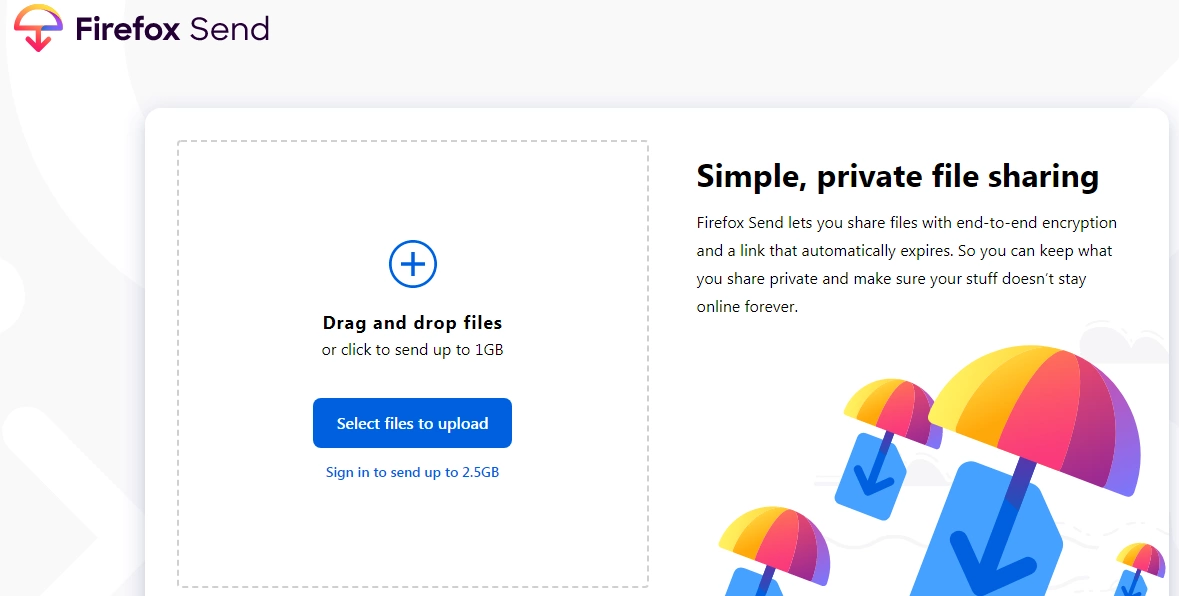 1. Firefox Send – This free file host is owned by Firefox.
It does not just upload your file(s) into the server but also allows you to share the file through an encrypted link.
You can upload a file that is up to 1GB without registration.
If you are looking at uploading files larger than 1GB, then you might want to send files larger 1GB.
Here are some of the features of Firefox Send;
You can set your file to expire after a certain number of download is achieved.
You can also set your file to expire within stipulated days.
The maximum expiring period, in this case, is 7days.
2. Zippyshare – Even though you have not uploaded a file to Zippyshare, you must have download a file from the Zippyshare server.
This is one of the most popular free file hosts available on the internet.
You can also drag and drop the file you want to upload or simply browse the file to upload it.
Once the upload is complete, you will be given a link to that file.
This is the link that you will send to anyone you wish to send the file to.
Please note that as at the time of updating this page, Zippyshare had no option to automatically delete files after a certain number of downloads or days.
So if you are uploading a file you would not wish it stays on the internet for a long time, then the first option might be for you.
Since you require no registration to upload, you may not be able to control the file after upload so be sure that you really want to upload a particular file before you do so.
3. Openload – This is another free file host site without registration.
Despite the fact that you are welcomed with "upload your music, video, or documents on visiting the website, you can simply upload any type of file.
Images, videos, music and other document extensions can all be uploaded to this server.
Simply drag and drop to upload the file to the server.
In this free file host site, you have no control over the file once it is uploaded to the server.
You cannot also set the file to automatically delete as in the case of Firefox Send.
So be sure you want the document online before uploading.
4. File Dropper – Just as the name implies, simply drag your file and drop on the site to upload to the server.
Although there is an option on the site to upload the file manually.
There you can choose the file you want to upload and the upload process will begin.
The file dropper free file host site gives you the option to upload files as much as 5GB per upload even without any form of registration.
Once your file is successfully uploaded, you can grab the link to share that file with just anyone.
There is also an option to embed the download button to the uploaded file on either your personal website or online forums.
The file(s) you upload to this server remains there forever.
It's only gets deleted if it does not have at least a download in 30 days.
So long as the file gets downloaded from time to time, it remains on the server forever.
But for premium accounts, you don't have to worry if the file is downloaded or not.
Once the file is uploaded, it remains there for life.
So depending on the type of file, you may decide if you want to keep the file online forever.
5. Ge.tt – This is one of the shortest and memorable free file host sites without registration.
Even though there is a limit to what you can upload as an unregistered member of the site.
Files shared on this platform without an account are not saved.
They are temporarily available for 30 days.
After which, the file will be deleted.
So if your intent is to save the file permanently, you might consider creating an account.
6. We Transfer – This is another free file sharing service.
There is no registration required and it's free to use.
But before you start using it, you must agree with their terms and conditions and their cookies policy before you start adding your files.
You can add files as large and 2GB.
They also have a premium option which offers up to 20GB upload capacity.
7. Sendspace – File upload for a free account with Sendspace is 300MB.
And they send the uploaded file straight to the recipient mailbox.
You will get more storage space and capacity when you sign up for a premium account, but for anonymity; you can opt-in for the free account.
Uploaded files here are also temporarily saved for 30days after which, it is automatically removed.
8. Tinyupload – Tiny unload has a clear navigation interface.
Even if you've never used the internet before, on landing on Tinyupload site, you will know how to use the platform.
With Tinyupload, you can give a description of your file, though that is optional.
As at the time of updating this page, Tinyupload did not have options for registration.
That means all the uploads were done anonymously.
There is no limit to how much you can download/upload files on Tinyupload.
You are allocated 50MB per upload and there is no expiration date for uploaded files.
This service is absolutely free to use.
9. Filebin – This is simply made for file sharing.
On visiting the site, you will know that there is nothing going on in the site other than file hosting and sharing.
There are 3 steps to getting your file there.
Hit on the file upload button, wait for the file to finish upload and share the file link with the people you wish to have access to the file.
10. Gofile.io – Gofile is another free file host site that has made it to our top 10 list of free file host site without registration.
Simply visit the site and choose the file you wish to upload and you will have your file live.
This site also offers you with a removal code after upload.
In case you wish to remove the uploaded file later, you will need the removal code to remove the file.
So if the upload is meant to be temporary, take note of the removal code issued.
So that's it on our top 10 free file host sites without registration.
If you know any free file host site that you think should have made it to this list, feel free to let us know about it.
Leave any comment