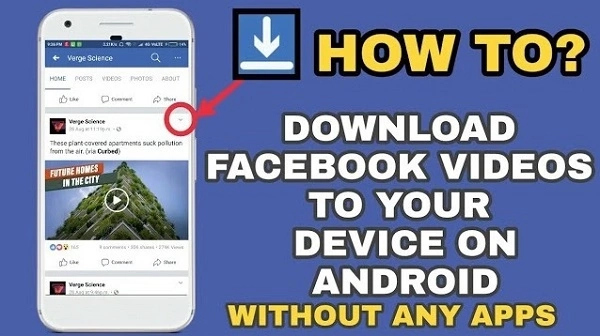 Should I say it's illegal to download Facebook videos?
Maybe that's not the right choice of word, but you will agree with me that Facebook doesn't allow users to download its videos as they provide no download button beneath the video or wherever.
The highest you can do to the video is to like, comment, or share it on your timeline and watch it when you want it.
Some users go as much as commenting on the video that the poster should send the video to their inbox. Even the one that is sent to your inbox cannot still be downloaded.
Mehn!
That's absurd when you can easily download any Facebook video of your choice.
Not to worry, at the end of the post; you will have the video downloaded into your mobile phone or computer.
There is no download button on Facebook to help you download any video of your choice that you would like to have on your storage device.
Before now, there was software that helped in the downloading of Facebook videos, but that did not work recently anymore.
Each time you try to download the video, you may have an error response that the download link was not found.
Maybe that's because Facebook tightens up its security system each passing day.
Since what I'm about to share with you has no trick, it will continue working even up until tomorrow. You can use this method to download as many Facebook videos as you wish.
If you have been scrolling your newsfeed leaving some cool videos you would like to have behind, now this blog has shared with you the information you've been longing for all this while.
In this article, I will show you practically how I download Facebook videos without any software, app, trick, or hack, whatsoever.
So if you have been searching for how to download Facebook videos, you just heard me make a promise that I will share with you how I download Facebook videos and how you too can do it.
Note: the tips I'm about to share with you can be carried out through an Android device.
After the video is successfully downloaded into your Android mobile phone, you can then transfer the video file to your PC, maybe through Xender or any other device you wish.
How to download Facebook videos on Android without any software
In the course of this tutorial, we'll require you to install opera mini version 7.6.40234.
That's the browser we'll be using to download our Facebook videos.
You will not be able to have that version of the browser from the Google play store, so you can download the apk file from the hyperlinked text.
Using this browser (opera mini) to download Facebook videos is one of the reasons I have bluntly refused to update my opera mini browser, despite the pleading 😆
I even have a backup of the browser should in case I change my mobile phone or wish to install it on any other Android device.
Now that you have the required tool, let's get started!
Download Facebook videos of your choice
Grab the video URL — If you saw the video while scrolling your Facebook newsfeed on your computer; right-click on the video and click on "Show video URL" and the video URL will be shown at the top of the video. Click on the URL to select and copy it. If you are on Facebook or Android, it's easy! Simply tap on the 3 horizontal dotted lines at the top right corner of the video and you will be able to copy the video URL to your clipboard.
Open the opera mini browser on your Android phone — Now take the URL of the video you copied in the first step and paste it into the address bar of your opera mini. In your opera mini browser, make sure you are logged in to the account that you saw the video with, in case the video was shared with only friends.
You can decide to type the URL of the video manually on your opera mini address bar or share the video to your timeline, so you can easily get the URL. You can use any method you feel will help you get the video URL easily without errors in the URL.
Once you paste the video URL on the address bar, you will be presented with the video play button, if you click the play button in this case, you will be prompted to download the video instead. Just tap on the save button and the video will start downloading
Note: it's only an HTML-based browser that will start playing the video instead of downloading it (Google Chrome browser for example).
It is because opera mini is not HTML based which is why it is prompting you to save this video before you can watch it instead of starting to play the video immediately.
Here is a recap!
Get the video URL
Paste it into your opera mini browser
Tap on the play button
The save dialog box will pop
Tap on the save button
There you have it! Your favorite Facebook video is now in your phone gallery.
That's exactly how to save Facebook videos to a phone gallery!
Meanwhile, here is how to find a draft post on the Facebook app.