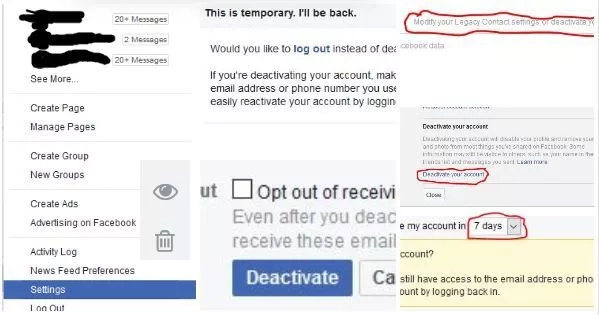 You may decide to deactivate your Facebook account permanently, for whatsoever reason, but in the course of this guide, I will be walking you through the steps to deactivating your Facebook account temporarily.
I mean, you can recover your Facebook account anytime you have the need for it or wish to recover it.
There are many reasons that may stir up the thought for your account to be deactivated, I had my share lately that led to the deactivation of my Facebook account.
I was in a location where I intended keeping it private, but some photos that had some part of me was shared from that location to Facebook.
Guess what?
I was mentioned by one of my Facebook friends in that post.
It is possible that Facebook will show this post to my Facebook friend that are not even connected the person who posted the pictures to Facebook, telling my friends that I was mentioned in the post.
So to save myself this mess, I was left with the only option to deactivate my Facebook account, so that my Facebook account will not even be live on the web.
Since my account was not active for the period I wanted, the possibility of that post streaming to my friends was a bit low.
Note: While your Facebook account is inactive, your friends will not be able to search for you, view your profile or converse with you, even on Facebook messenger, though earlier messages before the deactivation may still be read.
No communication of any type will be effective within the Facebook platform as long as your Facebook account is inactive.
The truth is that when we started in Social Networks we did not consider leaving them someday, even this fact of eliminating your Facebook account only happens in very specific situations, just like I shared above.
But not to worry, this very brief article will explain step by step and in a very detailed way how to delete a Facebook account temporarily.
In my own opinion, I think just as we should know how to create an account on Facebook, we should also know how to delete it or eliminate it whenever we want to, either because it's taking too much of our time or we just want it off.
Before I walk you through the steps to deactivating Facebook account temporarily, let's take a look at some possible reasons why you may want your account deactivated.
Though the reason may vary per individual, just have a glimpse of it.
Why you may want to deactivate your Facebook account temporarily
Educational purpose – I once stumbled on an article on the internet that talked about how to be a first class student in the university. It was recommended that students should deactivate their Facebook account at least during their study time. I strongly agree with the point, because notifications from Facebook can be very distracting sometimes.
Aside from studying, there may be a time in your life where you just need to be alone. Here, the deactivation may come to mind.
There are several reasons as it varies, but the two points above is what I consider the topmost reason why you may want the deactivation.
How how to deactivate Facebook account temporarily
Log in to the Facebook account you wish to deactivate on a desktop or laptop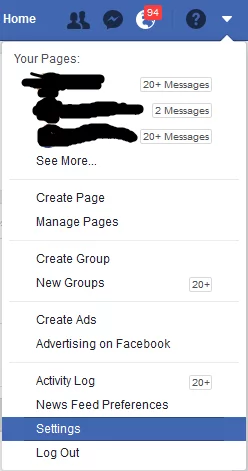 Tab the setting button highlighted in blue as seen in the image above
Then tab on "Manage account" as seen in the image below:
On the next screen that you will be presented with, click on "Deactivate your account"
At this point, you may be prompted to supply your Facebook account password. Type in the password as requested in the fields provided and log in.
Now, among the listed reasons for leaving, choose "This is temporary. I'll be back." since your leaving is temporary.
Facebook at this point is already scared of seeing you go, so they will provide you with a prompt to log out of Facebook instead of deactivation your account
Close the prompt and choose the number of days you wish your Facebook account to stay inactive
Now that you have selected the number of days you want to st inactive, scroll down the page and click on "Deactivate" button

Note: Irrespective of the number of days you have selected to stay inactive, your Facebook account will be back & fully functional anytime you try to log in to the account within the stipulated time of deactivation.
The alternative way of deactivating Facebook account
You might not have the time to go through the process from step one.
Just visit Facebook deactivation link – https://www.facebook.com/deactivate/ and take it up from this point.