You can crop image from camera and gallery in Android without the need for a third party Android app, but that may depend on the phone that you captured the image with.
There are some Android phones with inbuilt image editor that can help you crop image from camera and gallery in Android.
Personally, I crop images from camera and gallery in Android without any need for a third party app.
You can also do it on your phone too.
No need to load your phone with different applications when your phone can actually do it without any app.
So in this post, I will show you how you can crop an image of your choice from camera and gallery on your Android device.
You will not know how to crop an image from camera and gallery in Android until you read through this page.
For the sake of this post, I will be using a Gionee device as a case study.
The steps to get it done on others phones will be pretty similar to some of the screenshots you may see in this post.
Crop image from camera and gallery in Android
This step works for basic cropping, if you want to add some cool effects to your image, you may need a third party photo editing app that can help you do that.
Maybe you were in a group photograph and you like your posture on the group photograph, you can crop out other members of the picture leaving just you on the photograph.
You may navigate from your phone's camera immediately after taking the photo you would like to crop, but take note, you can only crop from a phone's image gallery and not the camera itself.
But in some phones, there are always some quick navigation links to take you from the phone camera to the gallery.
Should in case your phone does not have this easy navigation, you might want to visit your phone gallery directly to crop the image you want.
While the language each phone manufacturer uses to execute this function may vary, there are basic languages to look out for.
In some phones, you will see "Crop" some phones may use "Edit"
Those are the basic languages to look out for while trying to crop an image from camera and gallery in Android.
Step 1: Open your gallery. On getting to the gallery, all the pictures that you have snapped with the phone will be listed from the latest ones to the oldest pictures, though that may depend on your sorting preference.
Step 2: On the picture, options is where you will find the crop settings.
There are two things to watch out for here.
Depending on the phone that you are using, where you find you picture options may vary. It may be at the top or the bottom right of the screen.
The options or menu button may be 3 horizontal dotted lines or 3 vertical dotted lines. On the phone that I'm using to illustrate this, it is 3 horizontal dotted lines.
Tap on it and you will find "Edit" see image below: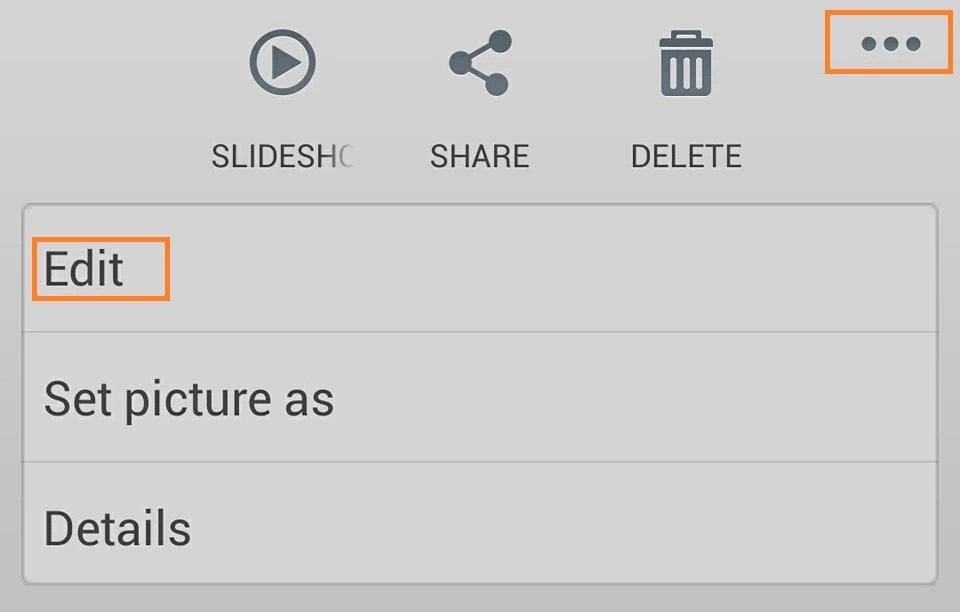 Under the "Edit" menu, there are other image editing options available, since all you want to do is to crop this image directly from your gallery, just tap on the crop icon, crop out the part of the image that you don't want.
When you are satisfied with the crop you've achieved, tap on the apply button, then you save the image. See image below for more explanation:
Now a second copy of the image will be saved to your phone's gallery which is the cropped version.
Play with it until it suits your preference.
It's that simple and easy to do, maybe you are always scared to explore your phone to see its hidden features that you've never used before.
Techinformat.com just did that for you, so go ahead and use it.