Want to connect your mobile phone WLAN hotspot to your laptop?
This guide will walk you through all the steps to getting that done.
However, before you connect hotspot to laptop, there are few requirements your laptop must posses before the WLAN hotspot will be discoverable to your laptop.
Not to worry, I will take you through every bit of it. Even if you've never connected hotspot to a laptop before now, I will explain it here such that you don't have any hitch in the cause of trying to do this on your laptop.
It doesn't matter the version of Windows that is running on your laptop, Windows 10, 8, or 7; this will help you connect hotspot to laptop irrespective of the Windows.
So here is how to do it.
Before the thought of connecting hotspot to laptop comes up, you must make sure that Qualcomm Atheros is properly installed on your laptop.
If it is a new laptop that you got, you should have this driver installed already. Unless you bought an open door laptop.
Or if for any reason you formatted your laptop before searching for this tip to help you connect hotspot to your laptop then you must have the aforementioned driver reinstalled before the hotspot turned on on your mobile phone can be discoverable to your PC.
Now that you know the system requirement that you must have in place before connecting your hotspot to your computer; then let's get started.
How to connect hotspot to laptop
I want to believe that you wanted to browse with your laptop, that was why you searched for this piece of information.
Before you can connect hotspot to your laptop, you must be sure that the driver is installed and it is turned on.
If your laptop is in flight mode, it may not be able to discover the WLAN hotspot when turned on as all the connectivity functionalities are all disabled.
Check for these things on your laptop before turning on hotspot on your phone.
Step 1: Head over to the settings panel of your phone to switch on hotspot.
Usually, you should find that under tethering & portable hotspot where you have other connection types such as USB tethering and the rest of them.
The connection option that you are turning on in this case, is the WLAN hotspot.
When on the page to put this on, please check to see the set up so you know the Network SSID and the password (if at all).
Steps to turn on WLAN hotspot on Android
Tap on your phone settings panel
Scroll to where you have tethering & portable hotspot
Then tap on WLAN hotspot
You will see a button to toggle it on at the top of the page
Remember to check other settings before putting it on.
Now that you have your WLAN hotspot on, its time to connect it to your laptop.
Now come to your laptop's taskbar towards the notification area and click on the network icon to check available WiFi.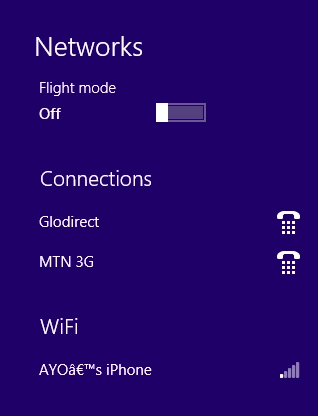 There may some numbers of other hotspots listed there depending on your location if you have more WLAN hotspot there.
That is why I said you must take note of your Network SSID so you can easily know the one that is yours.
For the list of WiFi networks that will be displayed, click on the one that is yours, and you will be prompted to insert the password if the network is secure.
If it is not secure, it will just connect and you will have both devices connected to each other.
Now you can browse from your laptop using your phone's mobile data.
So were you able to follow this guide and connect your hotspot to your laptop successfully?
Let's hear from your in the comments.