There are times you need to get rid of some unwanted autofills in your Chrome browser.
If Google Chrome is your default browser like it is on my computer, it is a good thing to know a bit about the Chrome autofill settings so you can clear unwanted autofills.
What inspired this post?
I just told you Chrome is my default browser so you now understand the need to configure the web browser to my preference.
There is a premium tool I have been using my Chrome browser to access. This tool uses access codes to grant each user access.
I have been using this service for a couple of months and each month comes with a different access code.
Now, Google Chrome autofill get me confused each time I want to identify my new and latest access code to log in.
To worsen the situation, the access code is not memorable.
So each time I hit on the access code field, all the old access codes I have used in the past will come up.
At this point, to reduce the risk of selecting an erroneous access code, I will need to delete all the autofill in my Chrome browser.
So in this post, I will show you how to erase auto fill on Chrome and have the fields completely empty.
The steps are pretty simple so let's get it started.
Chrome autofill settings — How to clear autofill on Chrome
— Hit on the 3 vertical lines at the top right corner of the browser
— On the drop-down menu, select "More tools" option from the list
— Then click on Clear browsing data… on the extended menu. If you don't have much time to waste, you can use Ctrl+Shift+Del to access the section in no time.
— Now select the time range that you want to delete the autofill. If you want to remove everything, you can all time then switch to the advanced tab to check the autofill form data.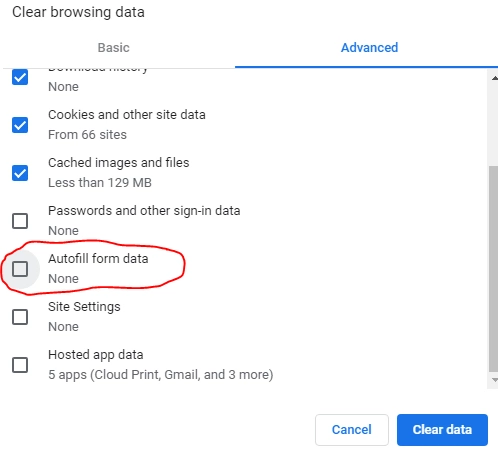 — Once the autofill checkbox is selected, you can hit on the "Clear data" button.
That is how to get to the Chrome autofill settings to clear the autofill form data.
Were you able to follow the guide in this page to delete your autofill form data?
Leave your questions or contributions.