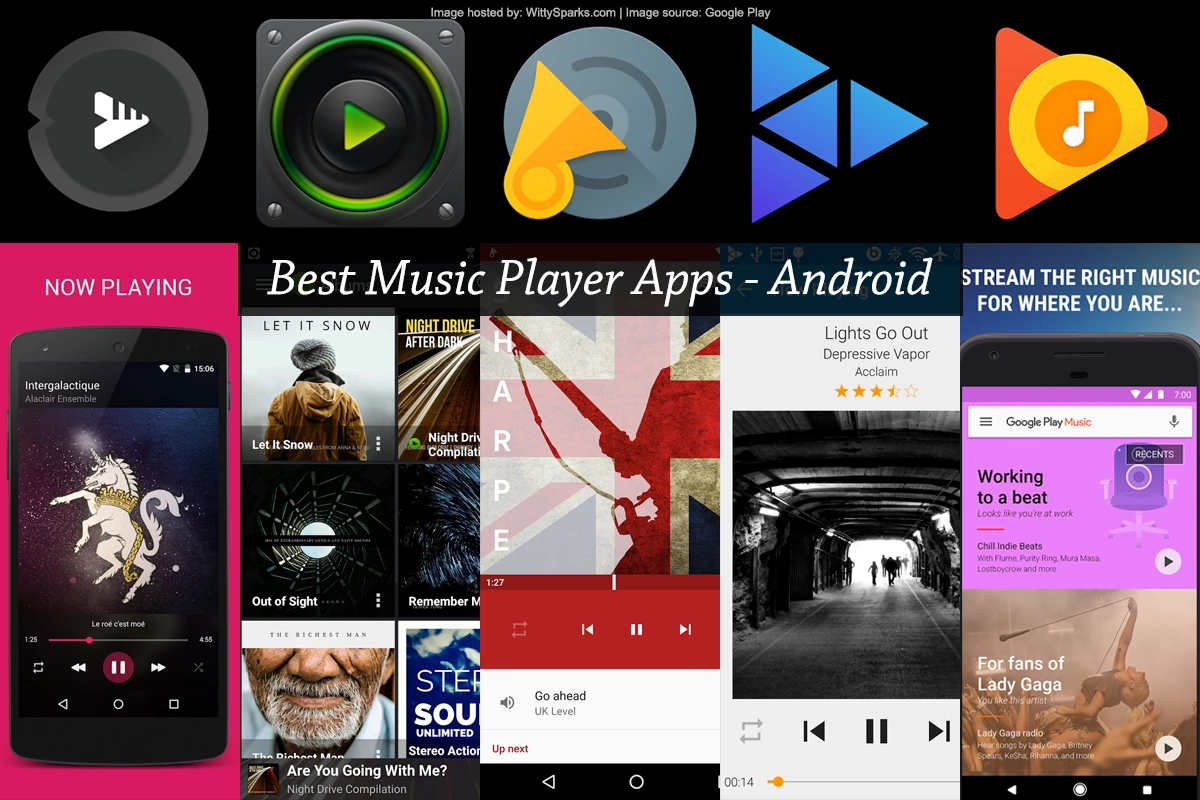 I will be sharing my compilation of this list of top 10 best music player apps for your Android device here.
The default music player that came with your Android phone may not give you what you may desire in an Android music player.
Then you may consider this music players for Android phones I consider to be the best.
For years now, app developers have been competing to offer the best in this field, starting with Sony Ericsson's Walkman devices, Nokia's Xpress Music, and Apple's iPhone and iPod Touch, which dominated the audio industry.
This competition ultimately led to the development of audio players (apps) and the improvement of quality, as we have today in our hands of smartphones and applications of music player.
Here, I do not mean the music playback applications that you search for your favorite soundtrack from but the music playback applications that you play your music at your leisure, and because of the many applications of the music player for Android widely, I have today compiled a list of top 10 best music player apps for your Android device.
Top 10 best music player apps for your Android device
10 Samsung Music — This is owned by Samsung electronics but it can also be installed on other Android devices.
Despite the differences in taste between the forms and applications of the application, no one is different about the beauty of the format and coordination of this exceptional Android music player.
The color of attractive black, which is not only comfortable to look and elegant, but it is also easy to use on batteries, especially with phones that support the screen The AMOLED technology was also tested on the Galaxy S8.
The result was the great performance, shape, use, and quality of the bright side of the phone and its operation in conjunction with the operation of the songs, making it an enjoyable experience.
Irrespective of the Android device that you are using you can download this Samsung music app from Google play store.
9. Play Music — This app is pre-installed on most modern Android devices, and it is really the most practical application. If you like to format and split songs, music libraries and artists, this is the best application for you.
Opening this application does not take more than a minute to search for all files and audio libraries on your phone the first time, but then it will open and work directly without the need to search, provided that you will follow some procedures that concern the internal storage first, which will show you the application, but they are simple steps and easy.
A trip to Google play store will have this great music player installed on your Android device.
8. BlackPlayer — This application is one of the recommended android music player apps recommended by all music lovers for the best quality possible, it is an application with a good graphical user interface and very easy to use and is not as ambiguous as some applications at all.
It is not only comfortable and interesting to look, but also does not bother you with pop up messages to allow installation and confirmation against some other applications, But it opens and puts you in front of the playlist directly to start listening and enjoy
BlackPlayer supports some basic audio formats such as (MP3, WAV, OGG) in addition to a setting to enhance the (sound bass) and the feature of (Playback), you can now know what is considered to rate this music player as one of the best applications on the scene.
Download BlackPlayer from Google play store and feel it yourself.
7. Free Music — Despite the name, this application is mainly based on playing songs from the SoundCloud, its basic function is to scan and play all the audio files on your device, but it focuses more on the playback of songs from SoundCloud through the APIs and keeps it on constant contact with SoundCloud.
Do you still need to be told that your Android device needs to stay connected to the internet while using "Free Music" player? Of course, not.
You can download Free music player from Google play store here.
6. Pulsar — This music player features user interface, graphics, and designs similar to rock and roll designs. You can create a special playlist in this application, which intelligently creates it according to the type of songs you hear the most from.
A song without any details about the singer or album, he will identify and collect details about it automatically, that is, not only did you get a music player, but you also got prepared and corrected details and information about albums, songs, and artists.
5. Pi Music Player — This application is not only attractive and attractive but also a lot of options and settings, you can see the line of writing elegant and distinctive makes the format of the library of songs perfectly organized, and it is fast and easy to open and you can choose the background color and shape, This has made it one of the best applications of songs and make it the perfect choice for users who care about form and beauty.
You can download Pi music player from Google play store
4. AIMP — This application works according to your preferred choice between light and darkness, and then carefully scans the phone memory to search for all audio files and songs, including tones and sound files for games, etc. It also supports the libraries of various sound formats and the control of the speed levels of the Playback.
You can download AIMP music player from Google play store
3. Neutron — Based on a lot of opinions, this app is the modest with an impressive interface that reminds you of IOS 6 by dragging the title of the song to open the playlist or dragging a specific art file to skip these songs with its usual play and stop buttons, Play audio files independent of 32 and 64-bit versions of Android 5.0 and above, and it has a database of lyrics and songs that you can run in conjunction with the operation of the selected song if available, and you can connect to the Internet radio and the operation of stations such as Icecast and Last.fm and others, and also supports alum delivery Me to connect to computers and Mac.
You can download Neutron music player from Google play store
2. Phonograph — This app is very similar to Google Play Music, and we can see that it can be integrated with the Last.fm radio station and has a Go to feature, where you can go from the songs to the singers' library or to the album if you like what you hear.
You can download Phonograph music player from Google play store
1. PowerAmp — It is a free application that is installed as a free trial for 15 days and allows you to determine whether it is best for you or not.
After the 15 days of evaluation, you can decide what you want to do, if to continue and make full payment or discontinue.
Once you open the application you can click on the song title to open the song list or file containing the songs on your phone, And labels, albums, artists, and playlists do not appear directly, but they exist so do not worry about it, and it is designed to improve the quality of sound and has many settings and improvements really interesting.
You can download PowerAmp music player from Google play store