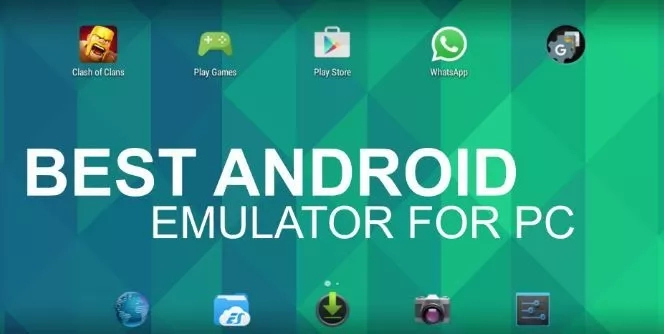 Do you wish to run any of your Android apps on your computer? Android emulators will help you achieve that.
Here, out of the many emulators available; I will list the best Android emulators for Windows, Mac, and Linux.
If you've ever thought of the possibility of running an android app on your computer, now you know it is possible.
Irrespective of the type of Windows that you are running on your computer, be it Windows 7, 8 or 10 this will work for you.
It works on Mac and Linux operating systems too.
The number of amazing android apps is increasing by the day, as these developers are sleeplessly working round the clock.
There are times you wish you can take all these amazing apps to the computer that you are using.
There are other android app emulators that perform the anticipated task very well.
Most of these emulators required the APK format of the app to be able to run. One of them is Bluestack.
If you don't know how to do it, I shared an article a while ago to guide users how to backup android apps to APK using ES file explorer, you might want to check that out.
So let's get into the business of the day, let me share with you some of the best android emulators for Windows, Mac and Linux users.
Top 6 best android emulators for Windows, Mac, and Linux
The first on my list is;
1. Bluestacks — Judging from my experience with bluestack, I would consider this android emulator to be the best among other available android emulators out there.
Most interestingly, you do not need to pay any penny to use their service.
If there has been this game you like a lot on your mobile phone, you can take it to your computer with bluestacks to have a refined experience.
It works from Windows and Mac users.
2. Genymotion Android Emulator — This is another good emulator built on virtualbox.
Even with that, you do not need to separately install the virtualbox, not to worry; it will be installed alongside the genymotion android emulator itself.
They are bundled together. You should know about a bundled app by now, remember when I talked about a bundled app when I wrote about gionee mobile security?
Don't tell me you missed it, read NOW.
3. Youwave Android Emulator — I would consider youwave android emulator to be the best alternative to bluestacks, should in case you searched for one.
This android emulator does not require a stringent system specification before it can be installed on your PC.
Even with your low RAM size and graphics card, you can still install this emulator on your computer without any issue.
Please note this, youwave android emulator is not entirely free, there are several trial version which you can try and it will still give you the best experience you would have in a paid version.
4. Android SDK Virtual Mobile Device Emulator — This is an official one from Google. Even "The big G" knows the importance of running android apps on windows so they launched this platform.
Though the idea behind this platform was not mainly for users to run their mobile apps on windows or mac for fun, but for an android app developer to test their Android app before launching officially.
5. ManyMo Android Emulator — Manymo is another android emulator but varies in execution mode, compared to bluestacks.
In the case of manymo, you do not need to download an offline installer to your computer to install and start using it.
That is the case in some of the emulators I listed earlier before now, bluestacks is one of them.
In the case of manymo, it uses a direct web to execute its functionality, all you need to do is just to visit manymo website to sign up and start using the tool.
6. Andy Android Emulator — Don't mistake this to be someone's name, it is also one of the emulators that have made it to the list.
Building a bridge between mobile applications and computer applications has got even better with andy android emulators.
You can use some of your instant messaging application with the help of this emulator.
Whether you want to chat on Facebook messenger or Whatsapp, Andy android emulator has got you covered.
The good part of the story is that it supports higher android versions too. With widgets, you can receive notifications too.
These android emulators are the ones I consider to be the best, based on my experience while using them.
They all work for Windows 64 / 34 bits as well as Mac and Linux operating systems.
Which other android emulators have you used and what was your experience? could you be kind enough to also contribute to this post?
The world is revolving, as we discover other android emulators, we will update them to the ones we have listed here already, so stay tuned.
…talk soon