Before you can automatically connect to WiFi in Windows 10, it must have been a network you previously connected before now and set it to connect automatically when the WiFi network is on.
You don't expect to connect automatically to a network that you don't have the security credentials.
It's not a hack, mate!
So if you have been searching for how you can automatically connect WiFi Windows 10, then this post will help you do that.
Automatically connecting to WiFi Windows 10 is pretty simple.
With a few clicks of the mouse, you can get this fixed.
Automatically connect to WiFi Windows 10
If it is your mobile phone WLAN hotspot that you wish to be using with your laptop and wish its connects automatically when both devices are on, here is how to do it.
This applies to other devices you wish your Windows 10 powered computer to automatically connect to its WiFi.
Any WiFi you wish to always connect to automatically, you need to specify that at the point connecting for the first time.
There is no special settings or tweak to automatically connect to WiFi in Windows 10.
Check the screenshot below and it will give an insight of what I'm talking about here.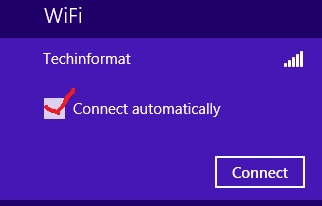 I hope this brief piece helps you automatically connect to WiFi in Windows 10.
If you have any question or contribution please leave it in the comment section.