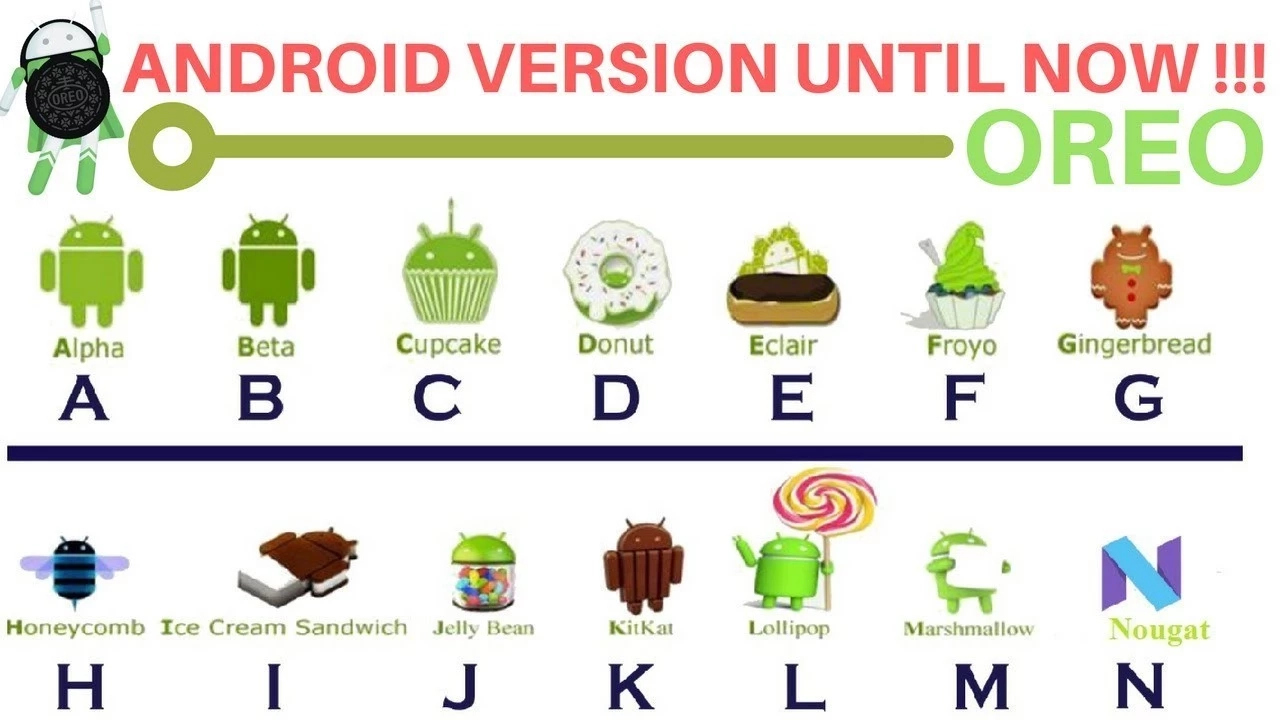 This article serves as a research article or for educational purposes.
If you are carrying out a research on a topic related to an Android operating system, this article will be of immense help to you.
You may be using the Android OS at version 8 and don't know how it all started. This article will explain to you all the Android versions we have right from the inception till date.
Before we get started, one of the things that are worthy of note about the Android OS is that it is one of the most popular and the most widely used operating system for smartphones today.
I'm not sure if there will be any other mobile operating system that may later come to subdue the Android OS, but I think that will be a really tough fight for any potential mobile OS.
The development of Android OS all started in 2003 by the pioneer owners, Android, Inc. But the operating system was later acquired by Google in 2005.
That's only 2 years into the business before it was later acquired by Google, the big G.
That is the reason why you must have a Gmail account before you will be able to set up a new Android-powered smartphone.
If you don't have a Gmail account, here is a complete registration guide for creating a Gmail account.
So let's get started.
Android versions, their names and their evolution through the years
1. The first one here and the first ever Android OS that started the journey is Android version 1.1 the Android version was not named though it was internally known as Petit Four.
The Android version was released on the 9th of February 2009 and it was initially only HTC dream only.
2. Two months after the first version 1.1 was released, the 1.5 Android Cupcake was released.  This was the first release to officially use a codename.
Remember, the first Android version "Petit Four" was only used internally.
This time, it had some features that were considered as cool back then.
Android version 1.5 cupcake features
The cupcake 1.5 version supported virtual keyboards with the ability for text prediction and users were also provided with dictionary for custom words
It all supported widgets
Video recording and playback in MPEG-4 and 3GP formats, there was no MP4 back then
Auto-pairing and stereo support for Bluetooth (A2DP and AVRCP profiles)
Ability to copy and paste texts in the web browser
User pictures shown for Favorites in Contacts
Animated screen transitions
Auto-rotation option
New stock boot animation
Ability to upload videos to YouTube
Ability to upload photos to Picasa
3. On September 15, 2009, another Android version 1.6 was released. This time, it was called dubbed Donut. It was based on Linux kernel 2.6.29. with some features that were also great for the users.
Other Android versions from then till date
2.0-2.1 Android Eclair
2.2-2.2.3 Android Froyo
2.3-2.3.7 Android Gingerbread
3.0-3.2.6 Android Honeycomb
4.0-4.0.4 Android Ice Cream Sandwich
4.1-4.3.1 Android Jellybean
4.4-4.4.4 Android KitKat
5.0-5.1.1 Android Lollipop
6.0-6.0.1 Android Marshmallow
7.0-7.1.2 Android Nougat
8-8.1 Android Oreo
We are anticipating the announcement of the Android P version 9 which the Beta 3 version was released on July 2, 2018.
This page will be updated regularly with relevant information as it concerns the evolution of the Android operating system.
If you have any contribution to make to this page, kindly contact us below and you will be duly referenced.