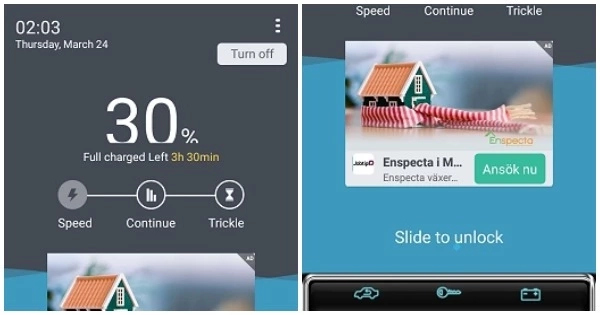 Do you have pop up of Android ads after unlock? This post will walk you through the steps to get that fixed with ease.
A friend once contacted me telling me that he gets these unusual Android ads after unlock in his Galaxy Android device.
He said that each time he unlocks his Galaxy device, that what comes up first is an ad. Funny enough he could not figure out what was the cause of it and how he could get rid of it.
He asked if I have any suggestion on how I could help him get that fixed.
Though I was not using the same device that he was using and I have never had any Android ads after unlock, I still had to go in depth for a research to see how I could help him fix the problem.
I've not been having these ads after unlock in my Android device but I have to write this tutorial to help other Android users who may have ads after unlocking their Android device.
The same working steps I shared with my friend will be shared here too so make sure you read through the line to make sure you digest every detail of this post, after all, you are also my friend.
Before we deal with the problem, let's first of all figure out what could be the likely cause of this problem.
I want to believe that you did not have this issue when you bought your Android device newly.
This problem is usually caused by some installed applications so it is caused by one of the applications you downloaded.
Android ads after unlock? Here is how to FIX it
So to fix this problem, you will need to delete all the games and other irrelevant applications you may have installed in your Android device.
You can delete all of these games and applications but you will have to check the task manager before deleting all of them to know what is running.
Applications such as Z Camera, Selena Gomez dress up games can also be that reason why you are having ads pop up when unlocking your phone.
Another way of fixing this issue is to install Norton Antivirus. Any app causing you this unusual popup will be removed with Norton Antivirus.
Have you heard of AppBrain Ad Detector before? It's a great app when it comes to Android ads after unlock. If you've been so troubled by this ads pop up, you can download this app and get it fixed at ease.
I shared with you 3 possible ways to FIX "Android ads after unlock" try any of them and you will be able to fix this problem permanently.
Here is a quick recap on how to FIX Android ads after unlock:
Uninstall irrelevant apps off your Android device (Z Camera, Selena Gomez dress up games) and other apps
Install Norton  Antivirus and it will help you scan your device and fix this problem
Install AppBrain Ad Detector. It plays a major role in fixing Android ads after unlock
Now that you have this problem fixed, you should stay off some of these applications that may likely pop up ads on your Android home screen.
Do you have any question or contribution regarding how to get Android ads after unlock fixed? Please be kind enough to share your thoughts in the comment section.