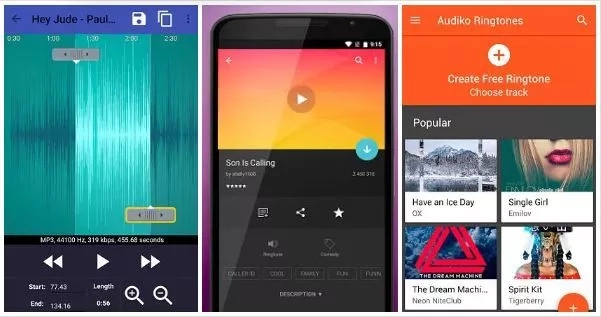 The android applications I'm about sharing with you in this post will help you download and make personalized ringtones for your android phone.
One of the most traditional ways to personalize your android smartphone is to choose a ringtone or melody that represents us or simply that we like it.
Nowadays, mobile phones allow the use of any mp3 file, but many times finding a site from which to download them is not an easy task.
Therefore, we will present some applications for Android, from which you can download tones and melodies for your android mobile device quickly and easily.
With this, you will create a custom ringtone for your android phone.
So stay tuned while I share with you a handful list of Android applications to make ringtone and melody for your android phone.
List of 3 best Android applications to download ringtones and melodies
1. Ringtone Maker
As we have already mentioned, you can use any mp3 file as a tone, but the usual thing is that the song will start from the beginning of the song, while you may be only interested in the chorus, bridge or the refrain part of the song.
To solve this problem, we have Ringtone Maker as one of android's ringtone making applications with which you can choose any music you have in your phone and edit it to choose the part of the song you want as a ringtone.
In this way, you can go a step further, to customize it and have a custom ringtone for your android device.
We are not talking, therefore, of an application directly dedicated to the download of tones.
The idea is that you can download any Mp3 file from the place you usually use for downloads, and then adapt those files so that, when you have an incoming call in the phone, the piece of song you want will start ringing, so that having the perfect tone is much easier and comfortable.
Therefore, if what you are looking for is a list of tones to download, it is possible that this is not the android application you need.
But if you are a creative person and you want to try converting your favorite songs to ringtones for your smartphone, "Ringtone Maker" has everything you need to make this process easy and have your ringtones ready in a matter of minutes.
Actually, Ringtone Maker works in a similar way to any audio editor.
You will simply have to pick up the Mp3 file, scroll through its wavelength with the arrows destined to it and select the beginning and the end.
In a matter of minutes, you will have the song perfectly edited and ready for use as a ringtone or melody.
In terms of popularity in Google play, this app is one of the most downloaded, with between 50 and 100 million installations.
Of those users who have installed this app, more than 400,000 users have rated the app, giving it an average of 4.2 stars out of 5 stars.
That's a good number of rating the tells any intending user that this a perfect android application to download ringtones and melodies.
2. Zedge
This application is not directly aimed at downloading ringtones to your Android device but, in general, to personalize your Android mobile.
Therefore, what you will find here will not only be a collection of tones and melodies for your Android phone, but also many other options such as wallpapers and themes.
In short, it has everything you need to give your smartphone a personalized look.
In its database has millions of ringtones and notifications completely free, which will help you give your smartphone, the sound that best suits your preferences.
In addition, you can save your favorites, and then easily find them when you change your mobile.
In addition to the traditional functions to customize, you also have some limited editions for certain dates such as Christmas, Halloween or Valentine, so that you can vary the appearance of your smartphone over time.
There are even customizations designed for important moments in your life such as your graduation, wedding or your birthday.
The fact that this app has tons of tones, melodies, and wallpapers, in its database does not prevent it from being a completely free app.
There are several million users, who have downloaded this android app already, specifically between 100 and 500 million.
The number of evaluations is almost 5 million, which gives 4.6 stars out of 5 stars.
There is no doubt in my mind that this will suit your need for Android applications for downloading, making and editing of ringtone.
3. Audiko
In the case of the audiko android app, it features is pretty similar to that of the two applications shared above.
It also allows you to cut off some parts from a favorite song from your mobile phone.
Every day thousands of ringtones are added to this app database, among which the most popular songs stand out so that you can always have your mobile phone up to date.
As among a large number of available tones, it will be difficult to find one that you like, the tones are organized into categories, so you can find the songs or sounds that you like, much more quickly and easily.
Another option is to access the national tops, where you can check the most downloaded songs in your country, where the most fashionable tones will surely be.
Even if you are the one who has created an interesting tone, you can publish it so that other users can download it too.
In this way, an important database is created in which you can find practically any type of melody or tone for your android device that you could ever think of.
If the two previous ideas of applications have seemed interesting to you and you do not know which one best suits your needs, you can choose to have it all by downloading Audiko from the Google Play Store. 
In Google store, this app has between 1 to 5 million downloads, with a rating of 4.3 stars out of 5 possible, by more than 70,000 users who have tried the app